…Commends Okowa, security agencies
By Egufe Yafugborhi
WARRI —THE Palace of the Olu of Warri, His Majesty, Ogiame Ikenwoli, yesterday, said it did not authorise Prince Yemi Emiko to make any  statement on its behalf during the recent peaceful protests by Iteskiri indigenes over the conferment of the Ologbotsere, Iyasere and Uwangue titles on certain Itsekiri indigenes.
Meanwhile, the Olu has applauded Governor Ifeanyi Okowa and security operatives in Delta State for the peaceful resolution of the recent revolt by his subjects over intended conferment of cieftaincy titles on certain persons in the kingdom.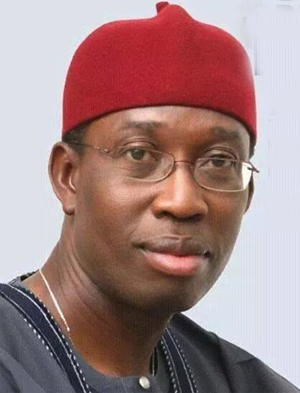 The Olu, in a statement by his Director of Palace Administration, Dr. Emmanuel Tetsola, also praised "the peaceful disposition of Itsekiri sons and daughters during the protest as no life was lost and no injury sustained.
"His Majesty thanks the governor and the State Security Council for their cooperation in ensuring peaceful resolution of the issue. His Majesty, in particular, commends the professionalism displayed by the police, navy, army and other security agencies who were on ground that fateful day.
"Olu of Warri is committed to peace and development in Warri and Delta State and will always cooperate with Okowa, the governor of Delta State to achieve this."
It added that the Warri monarch did not authorise any statement in connection with the matter, clarifying that the remarks credited to Prince Yemi Emiko, were in his personal capacity and did not represent the position of the palace or the Olu.
However, Prince Emiko whose clarification doused tension in the heat of the subjects' siege to the Olu Palace, in absence of a palace statement, made it clear that he spoke in his personal capacity when he addressed newsmen.