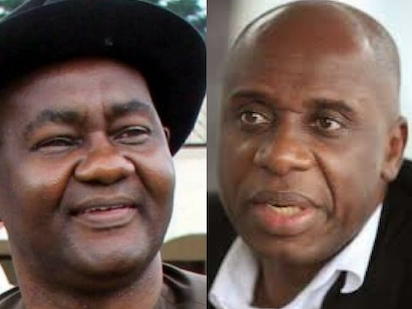 Senator Magnus Abe and Transport Minister, Chibuike Amaechi
By Emmanuel Aziken
Chairman of the Peoples Democratic Party, PDP in Rivers State, Mr Felix Obuah, has given reasons for his decision to wade into the alleged acrimony between the immediate past governor of the state, Mr  Chibuke Amaechi and Senator Magnus Abe.
Both men who belong to the All Progressives Congress, APC, have reportedly been at odds over issues pertaining to the 2019 gubernatorial ticket of the party.
When the faceoff between both men broke out last month, Obuah had in a statement offered to broker peace between both men who had previously been members of the PDP.
The reconciliation meeting was scheduled to hold last Sunday.
Asked of the outcome of the meeting or if the meeting took place at all, Obuah said yesterday said that the APC  state congresses scuppered the peace parley.
But justifying his peace initiative, he said: "I am still hoping that as a father and as a senior to all of them, I cannot be in the house and my children are quarrelling and I cannot intervene."
"Power belongs to God and anybody that God gives power must be despite of all there."
Asked if he was not trying to make a political point out of the intraparty issue in the APC, Obuah said it was for the reason he took the meeting to his palace and not to the PDP secretariat.