By Oboh Agbonkhese
LAGOS – The United Labour Congress of Nigeria, ULC, has given the a federal and state governments two weeks within which to honour all agreements reached with workers to improve the welfare or face  total economic shutdown.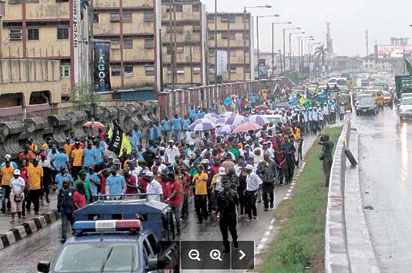 ULC, in a communique issued after its Central Working Committee, CWC, meeting in Lagos, demanded that the Federal Government honoured, among others, its 2009 agreement with university lecturers, adding that despite collecting huge bail-out funds and the Paris Club debt refunds, many state governors have refused to pay workers' salaries.
ULC's President, Mr. Joe Ajaero, told newsmen after the  meeting: "What we are planning is no roadshow. If after two weeks from today (Tuesday) nothing changes, rail, electricity, shops, banks, aviation and the petroleum and gas sector will seize to function in this country.
"It is fraudulent to use the name of Nigerian workers to collect money and then divert it to other uses; that is obtaining by tricks and is punishable under Code 419 of the law of the federation."
Ajaero said ULC was worried that the Nigerian workers and masses had been abandoned to their fate by the ruling elite.
He said the CWC-in-session, therefore, called for the immediate payment of all the arrears of salaries owed Nigerian workers "at all levels without exception."
He also described the proposed bill on hate speech as another Decree 4 in disguise, pointing out that there were already relevant laws with which anyone that felt maligned could seek redress in court.
Other demands include release of ULC's registration certificate to make industrial relations clime more inclusive and robust, the immediate inauguration of the national minimum wage committee and repair of all roads leading to refineries and depots nationwide to stem the current loss of lives, wastage of products and properties on these roads.