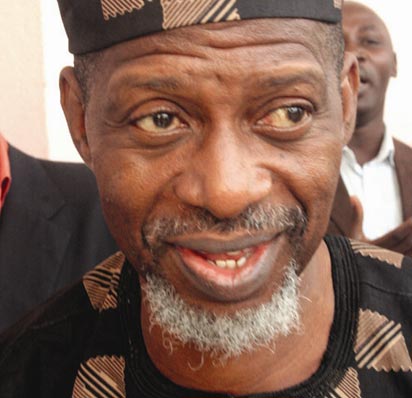 Odia Ofeimun,
By Elizabeth Uwandu
Renowned poet, Odia Ofeimun, has called on the National Assembly to futher review the constitution to devolve more powers to states.
He also made case for local government autonomy, which the National Assembly had made provisions for.
The National Assembly recently came under attacks from Nigerians for killing the bill on devolution of powers to states.
But Ofeimun, who spoke as guest speaker at the maiden annual political science lecture tagged, "Constitutionality and the redress of Military overhang  in contemporary politics," organised by Department of Political Science, Lagos State University, Ojo, Lagos, said true federalism was the way out for Nigeria.
He stood in for the initial speaker, Osahene Boakye Djan, Ghana'sw  former Deputy Head of State, who was to speak on the topic "Constitutionality: Understanding Military Approach to Power and Governance" but could not make it.
Ofeimun noted that Nigeria might not be able to escape military interference if the constitution was not clearly defined.
He said: "To avoid soldiers interference in Nigeria on the guise of making things better, we must have a realistic political sovereignty and a defined constitution, as  the constitutionality of a constitution is what legalises it, while  the political sovereignty of a nation is its population."
Calling for a review of the constitution, the scholar said: " There is no running away from the notion that true federalism is the solution to Nigeria's problems. However, all components must be listened to.
"For us to have meaningful development, the local and state governments should only send 40% of what they produce to the federal government, we must also take away some items on the exclusive list to the concurrent list for  more autonomy to the other arms of government.''