BY UGOCHUKWU ALARIBE
Founder, Movement for the Actualization of Sovereign States of Biafra, MASSOB, and Biafra Independence Movement, BIM, Chief Ralph Uwazurike, has stated that he swore with the corpse of a MASSOB member, Gabriel Oguh, never to betray the struggle to actualize an independent state of Biafra.
He explained that Oguh was shot dead by security agents while celebrating the hoisting of the Biafran flag on May 222, 2000, at 175 Faulks road, Aba, Abia State.
Uwazuruike who stated this in a statement signed by BIM's National Director of Information, Sunny Okereafor, insisted that he had kept faith with his vow never to betray the struggle for Biafra and condemned what he described  as orchestrated attempts to rewrite the history of the struggle for Biafra which he initiated 1999.
The MASSOB founder stated that he founded MASSOB when it is a taboo for anybody to mention the word, Biafra, in Nigeria, and added that he has made sacrifices for Biafra than any living Biafran.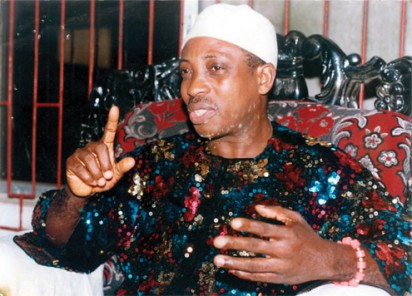 "Some people who didn't know anything about the struggle for Biafra have been accusing me of betraying the struggle. They have been distorting the history of the struggle. I started the struggle for Biafra when it is a taboo for anyone to mention Biafra.  I have sacrificed a lot for Biafra, even at the risk of my life. I have suffered several detentions from the Nigerian government over Biafra. I founded MASSOB and hoisted the Biafra flag when it is a taboo to do so.  People who accuse me of betraying the struggle for Biafra are envious of my achievements.
"When the time comes, the world will know who has betrayed Biafra. We have refused to be distracted by the antics of our detractors. Again, i urge you to reject the campaign from our detractors that South South or Niger Delta is not part of Biafra. This is a lie from the pit of hell. It is all part of their strategy to keep us divided against ourselves using our brothers but they have failed.
He dismissed reported that people of the Niger Delta region have no link with Biafra, describing it as an attempt to turn history on its head.
"Biafra encompasses the old Eastern region. History will not forget many eminent sons of South South who played prominent roles i Biafra such as General Philip Effiong, Frank Opigo and others. I commend MASSOB members for their steadfastness; the actualization of Biafra is at hand.
While insisting that BIM will actualize Biafra through its non violence approach to the struggle, Uwazuruike cautioned BIM members against hate speeches, adding that when Biafra is actualized, Nigerians will be free to live in the Biafran territory without fear of molestation.