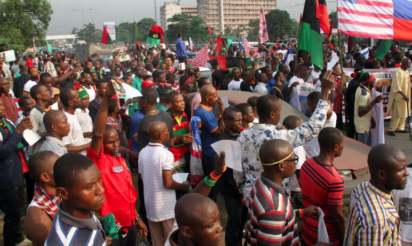 Nwoko's murder: Our hands are clean – IPOB
By Vincent Ujumadu
A group of lawyers under the aegis of Anambra State Lawyers in Defence of Democracy, ASLADD, has accused the Indigenous People of Biafra, IPOB, of causing anarchy in the country.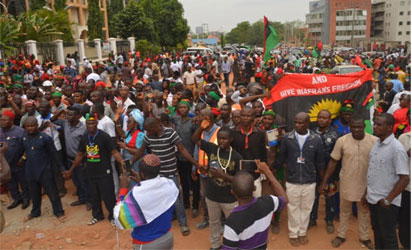 It  called  on security operatives to deal decisively with the organisation before things get out of hand.
In a letter addressed to the Anambra State governor, Chief Willie Obiano by its convener, Mr. Johnmary Jideobi, the lawyers observed that in its determined effort to cause mayhem in the country, IPOB had decided to introduce violence into the nation's electoral process.
According to the lawyers, with Anambra State due for another governorship election which the electoral umpire, Independent National Electoral Commission, INEC,  had slated for November 18, 2017, IPOB members had besieged Anambra and have been frightening the people with comments that are capable of causing anarchy during the forthcoming election.
ASLADD said in the letter to Obiano:  "It is now  public knowledge that you have picked your nomination form in order to square up with many opponents from other political parties. The atmosphere is gradually heating up.
"IPOB is not even registered with the Corporate Affairs Commission in Nigeria and therefore, enjoys no legal entity in the Nigerian nation. However, IPOB's activities and the consequences now transcend both political/geographical boundaries.
"The leader of IPOB, Nnamdi Kanu, has taken a decision and consequently issued a directive to the effect that elections would no longer hold in Biafraland. No doubt, both your humble self and the members of ASLADD are all Biafrans. To this extent, it is therefore, correct to state that no one man or group can lay claim to being more Biafran than the others."
"The fulcrum of this urgent letter is to express the way we feel by the strident opposition mounted by the IPOB to the conduct of the 2017 governorship election in Anambra State.
"We have chosen to write you on this, principally because we are involved. We are involved because we too are Anambrarians. We are involved because democracy has come under imminent threat in our beloved state.
"We are involved because the future of every nation's democracy lies on the shoulders of lawyers. We are involved because lawyers are saddled with the sacred and abiding duties of enlightening the society, upholding the rule of law and defending our constitution, which is the most sacred document that holds our nation in balance and in being.
"We are involved because it is our incontestable right to contribute in defining and protecting the future in which we will live and raise our kids. It is now clearly beyond any scintilla of argument that we have a legitimate interest in whatever plays out on the political scene of Anambra State." According to ASLADD, a boycott is an act of voluntary and intentional abstention as an expression of protest, usually for social, political, or environmental reasons, adding that if  IPOB had stopped at directing its members to abstain from the polls, perhaps the present open letter would not have been of any moment.
The lawyers said further: "But IPOB did not stop at that. It has now gone physical. In Onitsha, video evidence abound of how IPOB members interrupted state activities where the governor went for a football tournament. On another occasion, the governorship candidate of Progressives Peoples' Alliance, PPA, Chief Godwin Ezemo, was confronted at a rally by members of IPOB.
"Only recently, the IPOB members invaded and desecrated St. Joseph's Catholic Church, Ekwulobia in Aguata Local Government Area, where G