T he political space in Nigeria has lately been energised by calls for restructuring of the polity with political and non political actors speaking in dissonance on the issue.
While the call has remained strident, nearly all of the trumpeters and traducers of restructuring have failed to give specifics on their intentions. Indeed, a clear understanding of the term has remained wholly in the imaginations, a development that has further fuelled agitations.
Suggestive of the looseness with which the term is defined, the ruling All Progressives Congress, APC which canvassed the issue in its 2015 election manifesto only recently set up a committee to define the term. Albeit, that was done after much dithering procrastination.
The rejection by the National Assembly of some little proposals towards devolution of power to the states even further agitated the polity.
Vanguard, as part of its corporate mission towards a better life for the people, penultimate Wednesday, gathered some of the leading lights in civil society to discuss the issue of restructuring at the Vanguard Conference Hall.
The theme of the Conference was: Restructuring: What Is It?
The session which was streamed live and still available at  www.vanguardngr.com  had among others, Dr. Abiola Akiyode-Afolabi, the chairperson of Transition Monitoring Group, TMG; Bala Zaka, Engineer, Chartered Accountant, and Public Affairs Analyst; Chukwuemeka Eze, Lawyer, journalist, and former politician and Olukayode Salako, Educationist, Activist and Good Governance Advocate.
The quartet was supported by renowned columnist and the chairman of Vanguard Editorial Board, Ochereome Nnanna and Dayo Benson, Deputy Chairman, of the Editorial Board.
The session was moderated by Emmanuel Aziken, Vanguard's Political Editor.
ABIOLA AKIYODE-AFOLABI:  Student activist turned civil rights champion
Dr. Abiola Akiyode-Afolabi, former student activist, lawyer, and civil rights activist is the chairperson of the Transition Monitoring Group, a coalition of 400 civil society organizations in Nigeria.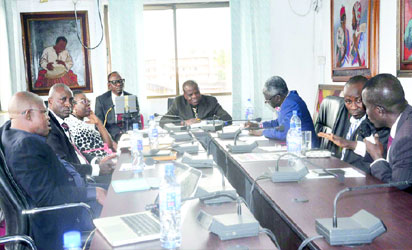 She is also the Executive Director of Women Advocates Research and Documentation Centre, WARD-C, non-profit civil rights organization established in the year 2000 to promote respect for Human Rights, Gender Equality, Equity, in Nigeria.
She was a delegate at the 2014 CONFAB and was the Public Relations Officer of the Students Union Government, SUG during her days at the Obafemi Awolowo University, OAU.
BALA ZAKKA: Engineer, Chartered Accountant, and Public Affairs Analyst
Bala Zakka, Petroleum Engineer, Chartered Accountant, a Chartered Tax Analyst and a member of the Technical Research and Public Policy Committee, the Benevolent & Educational Trust Fund Committees of the Institute of Chartered Accountants of Nigeria (ICAN). He is also a member of the Nigerian Institute of Management (NIM), the Chartered Institute of Taxation of Nigeria (CITN), the Society of Petroleum Engineers, SPE.
Zakka is also an Energy/Public Affairs Analyst and a regular featured guest/analyst on the major television and radio networks in Nigeria.
CHUKWUEMEKA EZE: Lawyer, journalist, and former politician
EZE is a public affairs analyst, a civil rights activist, legal practitioner, former columnist with The Sun and Union newspapers, was a member of the National Advisory Council against Money Laundering. He once contested election and lost as a member of Ebonyi State House of Assembly for Ohaozara East in 2003. Besides being a lawyer, Eze is a journalist, chartered tax practitioner, Notary Public, and chartered mediator.
While the call has remained strident, nearly all of the trumpeters and traducers of restructuring have failed to give specifics on their intentions.
OLUKAYODE SALAKO: Activist, good governance advocate
Olukayode Salako is a human rights activist, educationist, and advocate of good governance. He is the National Coordinator, Change Agents of Nigeria, CAN, and is involved in the affairs of several civil society groups.
As a public commentator, he is a regular guest on talk sho on television, radio and print media.  He is passionate about the emergence of a new and prosperous Nigeria where equity and justice reign. He holds a BSc in Business Administration and a Masters degree from the University of Lagos. Salako is also an educationist, who owns a top-notch institution in Lagos.
Ochereome Nnanna, chairman of Vanguard Editorial Board and renowned columnist and
Dayo Benson, lawyer, journalist and Deputy Chairman, of the Editorial Board, Vanguard
Opening remarks on restructuring
Abiola Akiyode-Afolabi
The word restructuring has emerged very recently as one famous terminology which has several meanings to different people. When you have such a term, you can define it in such a way that you think is appropriate. With the way Nigeria is going we are not totally surprised that the quest for restructuring has come up. But what manner of restructuring are we looking at? I would rather canvass for a constitutional restructuring, the restructuring that would redefine the kind of constitution that we have presently; by redefining the kind of government that we have; redefine the kind of federalism that we have by virtue of Section 2 and some of the other sections of the Constitution. We can only restructure when there is something that is imbalanced, so I see it from that positive point of view.
Chukwuma Eze
Restructuring is just a euphemism. Some people had earlier called it fiscal federalism; some people call it the federal system of government. I am going to look at it from the angle of the federal system of government. We have borrowed the presidential system from a country that runs a federal system of government, United States of America.
There is nothing we want to do that other people have not done before. So all we need to do is to do a comparative analysis and appreciate what other people have done and see to the extent we can deviate from that based on our culture and peculiar circumstances.
I'd like to look at the foundation of this country. Can we ignore the foundation as we build this country? Can you build a house on a different foundation that you built earlier? How can we pretend that we are running a federal system that cannot take into cognizance those foundational issues? So I'd like to look at the Exclusive Legislative List in relation to the Concurrent List.
Why should a federal road in my local government be awaiting interventions of the legislators in Abuja before it can be constructed? I'd like to look at it majorly from that instead of from sentiments arising from emotions and political expedience. I will present it from the realistic and implementable point of view.
Ochereome Nnanna
What do we mean by restructuring? What we mean by it will lead us to what we want to do about it. For me, restructuring means that there is a structure on ground and the structure is not working. Therefore, there is a need to remodel the structure in a way that it will work. The issue of restructuring which I am a very strong advocate of is just to avoid (constructing) a building in a wrong place.
For me, restructuring is to make sure that Nigeria which stopped working in 1966 should be put back on the pedestal where it will start working again. Since 1966 Nigeria has not been working. The fact that people are singing hate songs today saying that people; their fellow Nigerians should leave a part of the country, exactly what happened 51 years ago; the fact that that is happening 51 years after the event that led to the civil war, that means that what we have since that time has not helped this country. If we had something that worked, Nigeria would have been miles away from this kind of situation. Rwanda was in the same situation in 1994, but they quickly came out of it; restructured and that is why that country is what it is today. Rwanda is regarded as one of the most rapidly advancing nations not just in Africa, but in the whole world. The capital of Rwanda is seen as one of the most beautiful cities in Africa. So, for a country that had that kind of that experience and begins to advance and here we are running around the same spot.
Dayo Benson
I will look at the concept of restructuring from the engineering aspect of it, and this can be seen in the concrete terms or in the abstract term. If you say restructure, that means that there is a structure and there was a foundation that was laid and along the line the structure was found to be defective or ineffective; so, there is a need for restructuring, and we can do that in two ways: We can do that by either pulling down the structure and rebuilding it and second we can do an internal restructuring. In this case, walls can be broken, do some realignment and reinforcement to make the structure stronger. That is in the concrete term.
In the abstract level, we can look at within the context of the word called Nigeria.
The word Nigeria is a super structure, the component states, the 36 states of the federation and the FCT make up the structure. What has happened to this structure over the years is that we have found something defective about the super structure called Nigeria which is made up of the states that we have.
We have realised that there is something wrong with this structure, so we need to change it in terms of political power, distribution, the economy. If the power structure is not well situated, there is the need for us to look at it; the superstructure, the configuration and also the component units of the super structure. We need to find out what really is the problem. The way the superstructure is; it is defective, and something needs to be done. For me talking about restructuring means devolving power from the centre to the states; make the centre less attractive which to me is the simplest form of restructuring.
Olukayode Salako 
Some politicians have said they don't know what it means. To them, they do not know what it means, but people know what it is. They do not know the right definition to give to it. Does Nigeria need restructuring? We have to be able to answer that question consensually first before we can put a proper definition to know what restructuring means, the type of restructuring we want to achieve and what we want to restructure.
Who are the people that will restructure it? Unfortunately, so far, the same people who were supposed to restructure Nigeria are now the ones calling for it. The same people are still the ones lamenting. A typical example is former Vice President, Atiku Abubakar; he was one of those who were supposed to restructure the country. Restructuring means that everything about Nigeria is not right. That is why there have been agitations here and there; several sections of the country feel marginalised. They are being short-changed.
Some people even feel that they don't have the kind of right that they are supposed to have in their own country. I was on a television programme, and someone from Bauchi State called in and said he was being treated as a third class citizen of that state and he has been living in that state for about 15 years. Yet, he is still being treated the way he is not supposed to be treated as a Nigerian. He said that even some foreigners from Mali and other neighbouring countries are treated better than him.
Restructuring means that the so many things that are not right in Nigeria must be put right; and for us to put them right, we must agree that there is a problem indeed because a section of the country has not even agreed.
We cannot achieve this restructuring if a section of the country has failed to agree.
From the Northern part, it is only Ibrahim Babangida and Atiku Abubakar who have really come out to say that Nigeria deserves restructuring. But the North as a geopolitical zone has not come out to say that we believe Nigeria needs restructuring; that it is time for us to go into that concept to make it a project and embark on it.
It is only from the South here, that these strong agitations have been coming and for that reason, it will continue to be the subject of the day for a long time, maybe not in my generation, before it will be done, until there is a consensus that this present Nigeria is a badly organised country. That is where my own definition of restructuring is coming out from.
You can only restructure a phenomenon that is badly organised. When you build something and you the builder is not satisfied that you have put all the right things in place to achieve it, definitely that structure is defective and will always call for a re-visitation of that structure.
Even before I was born, some of these terminologies had been recurring in the Nigerian political space; and now it's becoming very strong because someone is championing it and sincerely I did not see sincerity and ingenuity from that person who is championing it because he was one time the vice-president of this country. His party was in charge for 16 years. If he had been talking like this when his party was in power, when he had the opportunity, maybe we would have been able to achieve it.
Babaginda was there when the civil rights organizations were calling for the restructuring of Nigeria.
There is inequality in Nigeria, there is marginalisation, there is injustice, and there is suppression. So many things are ravaging our socio-economic state. But the people who are supposed to do it refused to do it. Now that 2019 is approaching, some people are now using that terminology as a political tool to gather attention.
Restructuring to me means that Nigeria is not right. So many things are not right; socio-economically, environmentally and in religion. Because when we are talking about restructuring, we have to talk about the orientation of the people. Do we have that orientation? Nigeria is not properly organised at this time. Things are falling apart. We need to reorganise Nigeria, and that is my own definition of restructuring.
Bala Zakka 
In the context of Nigeria, I see restructuring as a mechanism that is supposed to lead to the positive economic, social and political realignment of this sovereign entity called Nigeria if properly applied.
I am saying this because it is very clear that Nigeria has had a stunted growth for quite a while and if there is need for a mechanism in the context called restructuring, that will enable us to generate the necessary force that will overcome that political, social and economic inertia and make us generate the necessary momentum and velocity and move the country forward, then we should all go for it.
I am saying this because Nigeria has what it takes to be the continental hub in Africa whether you are talking in terms of politics, natural endowment or education. So there is a need for us to move forward. That inertia that we need to overcome to generate the necessary velocity. When we talk about velocity, that means we are moving and have a desired destination. In the context of Nigeria, if restructuring is that mechanism that we need to have, that existing structure, internally reorganized or realigned for Nigeria to move positively forward, then we should all go for it, and I am for it.
Moderator: Contrary to Mr. Salako's assertion opposition to restructuring cannot be said to be geographically contained. Mr. Zakka who is for it is himself from the North, and I am linked to the North by marriage. We also have some Southerners including President Obasanjo against it.
Now, if we are all for restructuring, the question is can we define the structure that Nigeria is presently operating?
Bala Zakka 
Who is this individual called Nigeria? This is something I notice about Nigerians. If you go to the great institutions across the world, go to the great libraries in this world, you will find either a first-degree thesis or masters or Ph.D. thesis by a Nigerian adorning that library. That same Nigerian will excel in other parts of the world even within the continent of Africa. But within Nigeria, we have nothing to show for it. That shows something is fundamentally wrong. Whether with our public or private persona, something is really wrong.
Take it or leave it, Nigeria is a matured country in terms of every endowment you can talk about. Today, there are probably more than 10 million vehicles, cars, and trucks combined in Nigeria, but as we speak today, despite the number of universities we have, we cannot produce a tyre, and Nigeria has not been able to produce a bicycle spook.
In terms of ranking, the oxygen of Nigeria's revenue today is oil and gas, and as we speak today, Nigeria cannot boast of establishing a local refinery or refining its distillates for sustenance. With all the universities we have; medical science facilities we have, Nigeria cannot produce vaccines, Nigeria cannot produce simple drugs. Nigeria has been reduced to a country that simply stamps NAFDAC (National Agency for Food and Drug Administration and Control) numbers on, packets and sachets of drugs vaccines that come into this country. So, something is fundamentally wrong!
When you talk about technology, Nigeria is supposed to be a continental hub whether it is in terms population or energy consumption. Nigeria is being driven by less than 5000 mega watts of electricity. Something is fundamentally wrong. But the good thing is that the geographical entity existing called Nigeria, something needs to be realigned and reconstructed. Something needs to be redesigned. So, if restructuring will help us to clear ourselves from that opaque negativity that has been making us not to grow and if that something is called restructuring, we need it.
Moderator: You say Nigeria cannot establish a refinery, but what do you say of what the authorities have described as illegal refineries and in the time of the civil war we also had Ogbinigwe bombs?