*As Adeboye tasks Christians on cleanliness
*Irukwu sues for peace
*Lamentations of RCCG volunteers
By Sam Eyoboka & Olayinka Latona
LAGOS — ALL roads lead to the 3 Kilometre by 3 Kilometre auditorium of the Redeemed Christian Church of God, RCCG, which is still under construction at the Simawa area of Ogun State near Lagos for the icing of this year's convention, the Holy Ghost Service where anything and about everything can happen.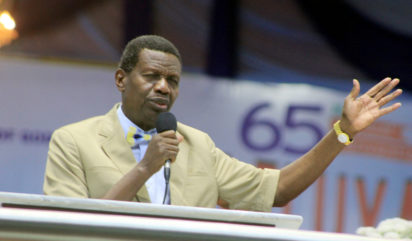 Miracle seekers from about 195 nations of the world, who have not been able to make to the camp for the one week convention which kicked off last Monday as a result of other engagements, are expected to besiege the Kilometre 46, Lagos-Ibadan Expressway venue of the convention today for the Holy Ghost service.
General Overseer of the church, Pastor Enoch Adeboye has variously assured participants that the theme of this year's convention, "Hallelujah," should be a signal to the fact that there will be intense praise of God and diligent prayers.
Hallelujah is a heavenly language and a victory song. The word hallelujah means "Praise the Lord," therefore it is the most familiar sound in all assemblies of the saints. The host of hell cannot withstand the shout of Hallelujah.
According to him, in the area of physical health, everything out of place will fall into place, because the presence of the One who inhabits praises will so saturate everywhere on the Camp Ground such that on merely stepping here, your health will jump back into place. Those who have been termed barren should start to rejoice because what has been out of place all these while is coming back into place.
The Holy Ghost service features high praise from different choirs and a variety of activities designed to uplift the name of the King of kings so that in return He will visit His people with abundant blessings.
Something spectacular happened yesterday third Plenary Session, when some people on wheel chairs were miraculously healed as several of them rose from their wheel chairs and started walking on their own.
Other miraculous feats are daily being recorded to delight of several participants.
Adeboye tasks Christians  on cleanliness
General Overseer of The Redeemed Church of God, Pastor Enoch Adejare Adeboye Wednesday went down memory lane to admonish Christians to keep their environments clean, drawing inspiration from the 1791 charge of John Wesley who affirmed: "Slovenliness is no part of religion. Cleanliness is indeed next to Godliness."
Addressing a crowd of worshippers at the ongoing 65th annual convention of the church at the old auditorium of the Redemption Camp, Pastor Adeboye warned Christians to desist from littering their surrounding but instead they should endeavour to make environments clean.
Giving his first sanitation report of this year's convention before his sermon, the 75-year old holiness preacher warned participants at the Camp to remain at all times clean, because the God they are serving abhors slovenliness, saying "wherever you find any dirt, pick it up and throw it to the nearest dustbin.
"Anytime you see trash on the ground pick it and drop it inside a trash bin. Not only here at the convention ground but anywhere you find yourself. When you leave here, keep your environments clean. Make it a habit, let it be part of you and you will see God will begin to attend to you. He will remove every form of dirtiness in your life. When you make your environment clean, when God visits, He comes with His blessings".
In his sermon entiled: 'The Power of Praise', Daddy G.O., as he is fondly called by both members and admirers, explained that praise derives its power from the power of the person one is praising. He, however, warned that as believers, one should never ascribe praise that belongs to God to any human being or oneself as such person might incure God's wrath as the case of King Nebuchadnezzar in the scripture.
Enumerating some of the implications of worshipping God, Pastor Adeboye said praise attracts God to true worshippers, God Himself will attend to such fellow and that God will not come alone but with heavenly armies to fight one's battles and when He's departing, He delivers a giant gift which often frightens the believer who trully worship Him in spirit and true.
In his words: "Praise derives its power from the power of the one you are praising. If you praise yourself, you will discover what King Nebuchadnezzar discovered in the Bible. If you praise yourself, you are likely to look for trouble and if you are praising human being, no matter how great such person is, you are putting such person in danger. All power, honour and adoration should be given to the Almighty alone.
"But when you are praising the Most High, the One who is higher than the highest, the Almighty, the One who can do what no man can do, then get ready for miracles. Also, the power of praise also comes from the fact that, when you praise God, you are drawing God nearer to yourself and you will be more than conqueror because God will fight your battles," he maintained.
Irukwu sues for unity
Other speakers at the on-going 65th Annual Convention of the Redeemed Christian Church of God, RCCG, have charged members to ensure the fulfillment of the church's vision, mission and objectives of the church.
Speaking at a family meeting which centred on the strength of the church and what needed to be put in place for the church to grow spiritually and numerically, the pastor in charge of United Kingdom,  Pastor Agu Irukwu called for unity among Christians, urging church leadership to have clear objectives, put the right structures, system and processes in place.
The cleric enumerated the importance of information, data gathering and research in fulfilling the mission of the church.
In his words: "We see in the Bible that it is God's intention to create man in His image and likeness and when God looked at the environment where man was to function. He knew that if He puts man in any environment, man will not function at its optimum.
"God created man into an organised environment for man to function optimally. What this mean is that for God to use us in this nation and the world, we must all be conversant with our destination, there cannot be two visions. Two visions will lead to division and that means there must be clear objectives, if we want to be victorious, we must be clear about our objectives, united in all things, in vision, purpose and designation because a house divided against itself will surely collapse.
"It is important that we must be of one mind and one vision and focus on what we want to achieve and when we do this, we must be able to go back and do exactly what God did by putting the right structure, system and processes into place. God spent five days in putting all the structure, the system that man need s to perform optimally into place," he said.
 A hungry person cannot  shout Halleluyah —Pastor Iluyomade
Also speaking, the Pastor-in-charge of Apapa Family of the church, Pastor Idowu Iluyomade, stressed the need for aggressive corporate social responsibility, CSR, providing for the less privileged persons outside and within the church, adding that a hungry person cannot shout Halleluyah.
Marketers smile home daily
The Redemption Camp is now bubbling with commercial activities as several marketers, traders including financial institutions smile to the various banks as they serve the mammoth crowd of worshippers at the Redemption camp.
Various wares ranging from household equipment, scriptural publications, clothing materials, all manner of wearing apparels, food stuffs of different kinds are on display for buyers while bottling companies marketing soft drinks are not left out in the show as they engage in promotion/sales including gifts to entice buyers to their stands.
Majority of the financial institutions and telecommunication outfits with presence in the camp have also introduced various marketing strategies to woo customers to their banks while all Automated Teller Machines, ATM, on ground have proved insufficient to serve millions of people already at the prayer ground.
One of food vendors who identified herself as Madam Gloria who travelled to the camp from Ekiti State, revealed that her take home on a daily basis runs to between N50,000 and N80,000. She said she is expecting her sales to increase as the crowd increases on a daily basis
Lamentation of  RCCG Volunteers
To assist the church at every special programme that attracts thousands to the Camp, several persons enrol as volunteers in various departments to control traffic, sanitation, security among others. Some of these volunteers are diligent and show signs of maturity in dealing with participants who at times are difficult to deal with especially.
Our findings have shown that some of the volunteers are often provided free food and accomodation at any of the church programmes.
One of volunteers, who pleaded anonymity, lamented that they often have to contend with several un-Christian behaviour from motorists who often drive against the traffic or want to have access to particular parks which the church authority has designated for the church ministers.
Narrating his experIence, he said: "I agree that we have some inexperienced volunteers, but you will be surprised to know the kind of insults, abusive words and un-Christian characters that are displayed by some drivers including ministers of God. As they are going into the different venues to worship, we are here working but because we believed that God has a way of rewarding us, most of us are faithful and committed to our work not withstanding numerous challenges we confront from some of the worshippers."
Some of the volunteers interviewed said although the church trains them, there is the dire need for more training on the use of the several kits provided, for them to perform at optimum level.