…Extols virtues of Idahosa, Bill Gates
By Sam Eyoboka & Olayinka Latona
ALMOST 20 years after the death of Archbishop Benson Andrew Idahosa, the General Overseer of The Redeemed Christian Church of God, RCCG, Pastor Enoch Adejare Adeboye, Thursday night extolled the virtues of Nigeria's foremost televangelist, author and father of Pentecostalism.
Speaking on a topic, "Jericho walls must fall down" at the ongoing 65th annual convention of the church, Pastor Adeboye went memory lane to relive the early life of the man described as the greatest African ambassador of the apostolic Christian faith to the world.
Illustrating his point that when God proposes something great for some people, enemies will bring all manner of problem to block their way, pointing out that God knew that Idahosa was going to be a great evangelist and the devil also had a rough idea, so he put an obstruction on his way.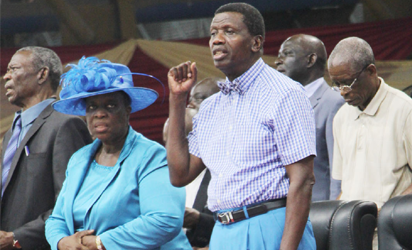 According to him, "when late Archbishop Benson Idahosa was born, he was very sickly, so sickly that one day his mother said, since this boy was going to die, let him stop wasting my time. She dumped him on the dunghill. The mother went to check him on the second day to see if he had died, but the boy was alive.
"The mother said stop troubling me. When the mother went there after third day, the boy was still alive without any food, so she brought him home and that boy became the great Archbishop Benson Idahosa."
He said, "there is something mighty that is within you that the devil is trying to prevent from happening but I can assure you that God will remove such wall of Jericho."
Continuing, Adeboye who abandoned his Ph.D in applied mathematics for the pulpit, also illustrated his message with initial financial challenges that confronted Bill Gates, a co-founder of Microsoft and an American business magnate, investor, author and philanthropist.
Adeboye argued that as a student, Gates was thinking about computer, he had the idea but he had no money to bring the idea to fruition. He had to borrow money from his friend. "Can you imagine…"suppose Bill Gates died without the computer, can you imagine where the world would be today."
The General Overseer, noted for his humility, also used his life history to illustrate the point, saying "my mother was a very strong woman. God bless her memory. She had three daughters and a son and she told my daddy that was all. And when my mother said that's all, that's all and period. I was not born yet and she said that's all.
"Later, the only son she had died and she was advised to try again one more time, that she never could tell the baby might be a boy and that was how I was born….I know that God has a thousand ways whereas man has no one but one thing is clear, because I was born, that is why you are here today.
"There is something great that God wants to do through you and whatever God has to remove so that you will reach that goal, He will remove them," he said, giving one more illustration.
"Several years ago, Pastor Kunle Ajayi (saxophonist and Director of Music at the Redeemed Christian Church of God) was dying, the mother thought she was going to lose him. I smiled and said she did not know who she gave birth to," Adeboye said, emphasising the need for Christians to praise God at all times.
"The only thing you need to do is to praise the One, Who is destiny maker. Moses was a song writer and a singer. David was an instrumentalist, singer and song writer, Hannah was also a song writer." .
According to him, there is something called destiny, and it simply means the purpose of God for your life.
"God said to Jeremiah before I formed thee, I knew thee, I had already sanctified and ordained thee prophet to the nations. God is a builder and like every good builder, He builds according to plan, He does not begin to build until the plan is ready, before He formed you, before your father met your mother, God had a plan for your life and the good news is that the plan is a good one and not that of evil for you to fulfil your destiny.
"God told Moses that His plan for his life was for him to bring Israelites out of Egypt to worship Him on a mountain. Concerning David, his destiny was that he was going to be king, God had planned it that he would be king. God told Joshua that His purpose for his destiny, is to take Israelites to the promised land and divide the land for them.
"The wall of Jericho is that thing that stands between you and the fulfilment of your destiny, anything blocking your way to destiny is wall of Jericho. For example, Moses' wall of Jericho was the Red Sea and that is why God breath on the Red Sea and it parted because God had spoken that Moses would bring His people to worship on the mountain.
"On the part of David, as soon as he was anointed King, devil tried to stop his destiny. He sent a lion and bear which David killed and then he sent Goliath who wanted to get over the throne before David could get there. Goliath was the wall of Jericho for David. He wanted to block him from fulfilling his destiny but at the end of the day, David cut off the head of Goliath.
"When Joshua got to Jericho and saw the big wall, he was confused but God instructed him on what to do and by the time Joshua followed the instruction, the wall of Jericho fell down," Adeboye preached.
According to him, "God knows the end from the beginning. He is aware of all that will happen to us in life. Therefore, do not be rattled by the tricks of the enemy. Before they built the wall of Jericho, God was around, He knew a day was coming when Joshua would pass through it. And so it is with you all"