By Benjamin Njoku
WIFE of maverick musician,  Charly Boy, Lady D, has thrown her weight behind her embattled husband, declaring that "he's doing what God wants him to do." Lady D's declaration came less than 24 hours after Charly Boy and other #ResumeOrResign protesters were reportedly attacked by hoodlums at the popular Wuse Market, Abuja, yesterday.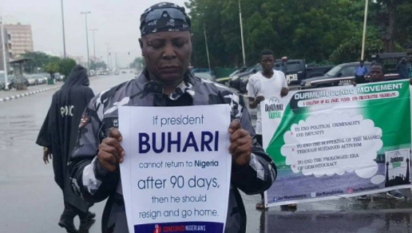 In a post she tagged with their picture on Charly Boy's Instagram page, yesterday, Lady D reappraised her husband's lifestyle, saying that he has always been spiritual. She wrote, "Charles has always been spiritual. He has always given himself to service. He has always been an inspiration to millions of frustrated Nigerian youths. His lifestyle has made thousands chase their dreams with tenacity and never gave up on themselves. Yes, people where not too sure of what to make of him because of his theatrics he kept confusing people who couldn't see the humour of the sense in how he was acting out.
"He's been there, done that, and seen that. What else can be new  for him? So I guess is Jesus time from here on and that's all the better for him. He's doing what God wants him to do. And it's people like him who can reach out to people like you."
Meanwhile, confirming the mob attack yesterday, Deji Adeyanju, leader of the 'Concerned Nigerians' group, that has been in the forefront of the protest tweeted, "We just went to Wuse market for mobilization against 100 days event tomorrow and a regular face at Unity Fountain brought thugs to attack us."
Adeyanju also claimed in another tweet that Charly Boy's car was damaged by the thugs that attacked the group. The group was attacked by the police last week at Unity Fountain with tear gas cannisters and water cannons, in a move that was roundly criticised by the Nigerian public.
The group has been staging a sit-out protest at the Unity Fountain since Monday, August 7, demanding that the president should either return to the country he left over three months ago, or resign from his position. Charly Boy is not the only prominent celebrity who has been at the protest. On Wednesday, August 9, 2017, Nollywood actor Jim Iyke attended.