By Vincent Ujumadu & Chimaobi Nwaiwu
AWKA—CHIEF Aloysius Ikegwuonu, the Ozubulu indigene who was alleged to be the target of the attack at St Philip's Catholic Church, Amakwa Ozubulu where 13 people lost their lives    has called on gods of the land to reveal the perpetrators of that dastardly act.
Ikegwuonu, who spoke yesterday at the palace of the traditional ruler of Ozubulu, Igwe Nnamdi Oruche, where some members of the Anambra State Council of Traditional Rulers came to commiserate with the community, regretted negative comments against him after the dastardly act by unknown gunmen.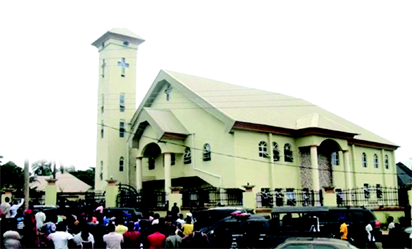 The visiting traditional rulers were led by the traditional ruler of Isekke in Ihiala local government area, Igwe Emma Nnabuife.
He said since the traditional rulers were custodians of tradition in their various communities in the state, they should pray that the gods of the land would reveal the killers of the church worshippers and bring them to justice.
Ikegwuonu said he was surprised that people started making negative comments against him in the media after the incident, instead of helping to provide useful information on how to arrest the killers.
According to him, there had not been any complaint against him in the past for any reason, adding "Anybody I offended should come out publicly and say it and I want to say it now publicly that I have not offended anybody or soiled my hands."
Ikegwuonu said that Ozubulu people knew that he had never made trouble with anybody and had been able to empower many youths and others in the community through the blessings of God.
"God has blessed me to help others and people should not be envious of what I have," he said.
He warned those allegedly making negative statements against him to desist from such and commended the traditional rulers for their visit, as well as a show of concern and the fatherly role they had played since the attack on the worshipers.
The traditional ruler of Ozubulu, Igwe Nnamdi Oruche commended his colleagues for their solidarity and concern over what happened in his community.
He said that Ozubulu community, despite the efforts of the security operatives in Anambra State, would make its own arrangements in a traditional way to get to the root of what happened in the community.