By Emma Nnadozie, Crime Editor, Vincent Ujumadu, Anayo Okoli, Johnbosco Agbakwuru, Omeiza Ajayi, Nwabueze Okonkwo  & Chimaobi Nwaiwu
Awka – SHOCK and grief still pervaded Amakwa village, Ozubulu in Ekwusigo Local Government Area of Anambra State, yesterday, as the residents narrated their experiences, during the attack at St. Philip's Catholic Church in the area.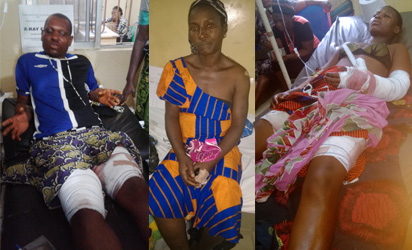 Just like Sunday, the vicinity of the church was still besieged by hundreds of people from various parts of the country, especially people from the village whose relations worship at the church regularly.  They came to find out the situation in their village.
This came as Police authorities in Abuja, yesterday, confirmed that three persons had been arrested in connection with the attack, just as Governor Willie Obiano dismissed insinuations that it was a terror attack against the church.
The National Drug Law Enforcement Agency, NDLEA, also said it was already linking up with international collaborators and respective countries, with a view to establishing the veracity of the drug activities related with the bloody massacre.
How I lost three relations
Among those who spoke with Vanguard, yesterday, was Joel Obunadike, who lost his uncle, his brother's wife and a baby. He said they were facing the alter when the gunman shot them from behind and the bullet caught them where they were sitting.
According to him, the deceased  sustained injuries and died later at Nnamdi Azikiwe University Teaching Hospital, Nnewi.
Obinadike added that his brother, whose wife and child were killed, had not even returned home.
It was gathered that the baby was taken to the theater for operation, yesterday, where she later died.
Joel said: "We were in the middle of the service when I noticed that a black jeep was parked outside. The car later moved from the spot and turned back a few minutes later and parked at the same spot.
"A young man came into the church through the back door of the church and started shooting, while backing the alter. Many people tried to escape through the two doors and to our surprise, the gunman started shooting at them on both doors. It was a terrible thing.
"I did not rush out like others immediately and it was most of the people who tried to escape that were either killed or wounded."
 Our ordeal— Victims
Two other victims, Samuel Ndulue and Chinasa Chukwueloka also gave a graphic description of what happened in the church.
Ndulue, who is heavily bandaged after undergoing an operation on his two legs said: "I was sitting on the third row from the front of the church when the shooting started and I got up to run away only for bullets to hit me on my two legs.
"I became unconscious and it was when I woke up that I discovered that I was in the hospital. I am happy to still be alive.''
Miss Chukwueloka said it was a miracle that she was still alive, adding that she followed other people to run when the shooting started only to fall in the middle of the church when she was hit by bullets.
Mrs. Christiana Okafor, who hailed from the neighbouring Ihembosi community that worships at the church, said she had to return from Enugu to ascertain the situation, adding that though she did not lose anyone, she was sad that people had to lose their lives in such circumstance.
A nurse in charge of the Emergency Unit of NAUTH said, yesterday, that six of the injured persons admitted on Sunday had been transferred to the hospital's outpost at Oba, while the remaining 22 were recuperating at Nnewi.
LG chairman reacts
Chairman of Ekwusigo Local Government, Mr. Ikenna Ofodeme, said he was compiling details of the casualties and wondered why someone should enter the church to kill innocent people.
According to him, it is possible that God wanted to use the incident to expose some bad people in the community and prayed that it will be the last time such an incident would happen in the local government.
He said of the 12 people confirmed dead, 10 were females, including a baby, while two were males, adding that 10 of the bodies had been deposited at New Haven Mortuary, Ozubulu.
He said:  "Doctors who were not even on call, and some who were at church service came to join doctors on duty to save the lives of the victims, as I am talking with you now, the accurate number of people who died are 12, including 9 women, a baby girl, and two men, and they are already at New Heaven Mortuary, Joint Hospital Ozubulu, and the one at NAUTH Nnewi."
Ofodeme  clarified on the alleged involvement of a prominent son of Ozubulu who is alleged to be the target of the attack, saying he could not have been the target because he was not in the country when the incident happened.
"This young man, Aloysius Ikegwuonu, they are calling based on the police report has built more than three churches in Ekwusigo communities. He is currently building a new one in one of the communities. He left this country two days ago.
"If he was the target and he did a business transaction that resulted to this killing, those who are pursuing him would have killed him at the football pitch.  He played inter-village match a week ago before he left the country for his base. Some are quoting the governor of the state.
''The governor was briefed by the police and whatever he said, he should not be blamed because it was security agents that briefed him, and he must tell the people of the state what he was briefed on.
"The shooting happened in the church.  Why didn't the people go to his house or his father's house?  What business has shooting people in the church got to do with business transaction between alleged drug pushers?
''This is purely a terrorist attack and nothing to do with a drug pusher's disagreement in South Africa with our son."
The council chairman said the attack may be politically motivated to give the impression that there is no security in the state, just to rubbish Governor Obiano's stride in addressing security in the state.
"If it were a misunderstanding between Mr Aloysius Ikegwuonwu and his kinsman in South Africa, what has that got to do with innocent worshipers in the church," he asked.
The state commissioner of police, Mr. Garba Umar, said, yesterday, that some arrests had been made, although he declined to say the number of people so far arrested.
"We don't want to give figures now so as not to jeopardize the ongoing investigation,'' the CP said in an interview.
Other victims react
Similarly, Charles Justice, who brought his wounded friends to the Nnamdi Azikiwe Teaching Hospital in Nnewi, said the incident happened after the homily at 6 a.m. Mass.
"Those who died are mostly children and the elderly, I know about three children who were below five years that died in the shooting," said Justice.
He said three of the victims had died at the hospital, a claim corroborated by a medical doctor who did not want to be named.
Nonso Nwakibe thanked God as his mother, Antonia, laid groaning from the pains of the bullet wounds on her arm.
Ogochukwu Maduka, a Lay Reader at the church, who sat in the front row at the time of the attack, said she had arrived for the Mass and found the church in darkness.
"After much effort to get the generator to work failed, they had resort to using candles and rechargeable lamps.
"The holy Mass had proceeded as usual, after the first, second and gospel reading, and then the priest's homily, as we stood up for the proclamation of faith, there was a sound of gun like thunder from behind.
"There was chaos, panic and confusion. The priest ran away as the gunshots continued and I took cover under the seat.
"When people started running around, the man began shooting upwards. Those mostly affected were those at the back of the church."  Maduka added that she counted about 15 corpses afterward.
Another victim, Nnagolum Oramadike, a primary three pupil, who was shot in the leg, said he "bent down" while the shooting was going on.
His mother, Chioma, who also sustained bullet wounds, said she was worried the news would devastate her husband, who had just travelled abroad to seek greener pastures, but hoped he would find out they were alive.
"The shooting started around 7 a.m. and my father in law was not so lucky.  I don't know how to take care of my children now I'm incapacitated," said Mrs. Oramadike, 32, whose daughter was hit by a motorcycle amid the chaos.
Ifeoma Onyeka sat beside her 14-year-old daughter who had just been operated upon. Her elder, foster daughter, Anwurika Mboje, did not survive the attack, as she had died right inside the church.
"I survived by hiding under the seat while the children must have  ran because of lack of knowledge of what to do in such a circumstance," she said.
We've made arrests, but… — Police
Meanwhile, Police authorities in Abuja, yesterday, confirmed that three persons have been arrested over last Sunday's killing inside a church at Ozubulu, Anambra State.
Force Public Relations Officer, Moshood Jimoh, who disclosed this, said appreciable progress was being made over the ugly development but referred our reporter to Anambra State police command for more information on the arrests.
However, when contacted, Anambra State police spokeswoman, Assistant Superintendent of Police, ASP, Nkiruka Nwode, said:  "Yes, we have made some arrests over the killings but we cannot tell you the number of suspects arrested or disclose their identities for now.  You know this is a sensitive matter and we have to tread with caution.
''All I can tell you is that we are on top of the matter and we will not relent until the perpetrators of the heinous crime are brought to book."
In the same vein, Vanguard reliably gathered that the Inspector-General of Police, Ibrahim Idris, may direct a special tactical squad from Force Headquarters, Abuja, to wade into investigations over the  killings.
The move, according to sources, followed insinuations that the state police command may have reached hasty conclusion by asserting that the massacre was drug related.
Vanguard learned that the police boss has been in constant touch with Anambra State Commissioner of Police, Garba Baba Umar, over the ugly development and has directed that perpetrators of the crime be fished out and dealt with accordingly.
The Principal Staff Officer, Public Affairs, National Drug Law Enforcement Agency, NDLEA, Jonah Achema, told Vanguard that the whole story was still at the level of speculation.
He said:  "However, let me assure you that we are following the story of the so-called drug deals outside the shores of Nigeria.  We are already linking up with our international collaborators and respective countries to establish the veracity of their drug activities.
"For now, that is the level we are.  We are focusing our searchlight everywhere.  It is regrettable that this measure of violence is happening in this part of the world.
''We assure Nigerians that if it is drug related, we will not spare any effort to see to the end and we will deal decisively with anybody involved, whether high or low.  It is also a call to rekindle the drug efforts by all stakeholders in the country."
It's gang war, not terror attack, Obiano insists
Also, yesterday, Governor Willie Obiano said the attack on St. Philip's Catholic Church, Amakwa Ozubulu was neither a terror attack nor by members of some groups of agitators in the country.
In a special broadcast in Awka, Obiano said it was a gang war that had spilled over to the state from another African country, assuring that it would be the last time such a thing would happen in the state.
The address read: "With a sorrowful heart, I stand before you today to brief you on the tragic killing of 12 people at St Philips Catholic Church, Amakwa, Ozubulu on Sunday.
"First, I want to assure you all that what happened in Ozubulu was a tragic dimension of a long battle between two business partners who are from the same town. I have been fully informed that this dangerous conflict has been going on for a while in the country where they both live outside Nigeria before they decided to bring the conflict home. But let me assure you that Anambra is too hot for them to operate, going forward.
"This explanation, I believe, has erased the fears that the incident may have been caused by either some terrorist organizations or some members of some groups of agitators in the country.
"What happened in Ozubulu was neither a terror attack as we know it, nor a violent action by some agitators. We are dealing with a dangerous Gang War that has spilled over to Anambra State from another African country. But this is the last time it will happen under my watch!
"I want to assure you that we are on top of this situation. We are completely in charge here. The people directly and remotely involved in this crime are known to the law enforcement agencies. But no suspect, no matter how highly placed, is above the law.  So, we have taken bold steps to bring them to book and restore the peace and tranquility that Anambra State has enjoyed since the past three years.
No cause for alarm
"Sincerely, there is no cause for fear or alarm here. Anambra State is safe. Our churches and places of worship are safe. So, our people should not be discouraged from going to church to serve their God because what happened in Amakwa, Ozubulu is an isolated case.
"It will not happen again! Ndi Anambra should continue to sleep with both eyes closed because we are staying awake for them. In the words of Wendell Philips, the American abolitionist and liberal activist, "the price of liberty is eternal vigilance." We have chosen to stay awake that Anambra may find sleep! I repeat, never again will this type of bloodshed happen in Anambra State under me!
"In all our 25-year history, never has a single act of senseless violence consumed so many lives. I strongly condemn this wanton killing of our fellow citizens who left their loved ones in the early hours of Sunday morning to worship their God.
''I condemn the senseless violation of sacred places of worship by people to whom neither man nor God is worthy of respect or honour. I condemn these people who did not think twice before placing such a heavy burden on our humanity!
"All the shadowy characters behind this crime shall account for it. This is the first and the last of this appalling crime!
"I call on you today, to join hands with me to rid our society of all vestiges of crime and criminality. Nothing else can stand in the way of accelerated development as crime does. We are familiar with this fact in Anambra State. That is why we have fought tooth and nail to usher in the long period of peace we have enjoyed in Anambra State.
"To our numerous friends and partners, I want to assure you that Anambra is still Nigeria's safest state. Indeed, the Ozubulu killings have only strengthened our commitment to create a safer, business-friendly and prosperous state. We remain focused on our Vision and Mission to this great state. No amount of threats or wholesale destruction can shake our commitment to these ideals.
"I have declared today (Monday) a day of mourning in honour of our brothers and sisters that were slain yesterday (Sunday). We shall observe a minute of silence in their honour at 12 noon today (Monday) and special prayers shall be offered for them in churches and prayer houses across Nigeria and in the Diaspora. We have also opened a condolence register for them at Government House.
"Finally, for the 18 survivors of this carnage, who are nursing different injuries in the hospital, my administration shall pick up all their medical bills. I have visited them at the hospital to ascertain their recovery rate. I have also dispatched 50 additional medical doctors to the hospital to ensure that they have access to the best medical care possible. Indeed, all hands must be on deck to save more lives.
Buhari called
"At this juncture, I want to thank the President of the Federal Republic of Nigeria, President Muhammadu Buhari, who called me last night from London to commiserate with Ndi Anambra on this tragic incident.
''I must also thank the Acting President of the Federal Republic of Nigeria, Prof Yemi Osinbajo, who also called last night to condole with us. My gratitude goes to everyone who has called my team and I to say a soothing word since this incident happened.
''Your calls have re-affirmed my belief that we are one people under God! It has strengthened my faith in the unity of this country.  Anambra State has survived incredible odds in our modest history. This too shall pass!"
Meanwhile, more reactions trailed the attack, yesterday, as the  Nigeria Labour Congress, NLC, described the early morning massacre as animalistic, bizarre, reprehensible and shocking.
It's animalistic, bizarre says NLC
NLC in a statement personally signed by its National President, Comrade Ayuba Wabba, in Abuja yesterday, said:  "What makes this attack more confounding is the fact that Ozubulu is far removed from any known theatre of conflict at the moment and has had little or no history of violent conflict.
"Whatever may have been the situation, this attack represents a descent into the pit of hell. It is animalistic, cowardly and shameful and all necessary steps should immediately be taken by security forces to bring the perpetrators to book.
"Our heartfelt condolences go to the families of the victims, the Catholic Church, Governor Willie Obiano and the people of Anambra State.
"We urge our security agencies to step up security in and around places of worship. We similarly urge worshippers to take the initiative of securing their premises."
Kanu chides police for quick conclusion
Reacting to the Ozubulu carnage, leader of Indigenous People of Biafra, IPOB, Mazi Nnamdi Kanu, called for forensic examination of the bullets used by the gun men so as to trace the killers.
Reacting to the barbaric incident, Kanu said he suspected some foul play and cover-up in the haste by the police to attribute the "heinous crime" to alleged feud between two indigenes of the community based outside the country.
The IPOB leader faulted the police for their quick conclusion on the cause of the attack or the identity of the assailants without conducting thorough investigations, saying the police should not have quickly ruled out terrorists from the attack without proper investigations.
According to him, there was nothing to suggest that the attack was not an act of terrorism.
Kanu noted that Ndigbo do not have the culture of carrying out mass killing for whatever reason let alone carrying such attack in a place of worship, insisting that it could be from terrorist act and called for thorough investigation.
"We are asking for a forensic examination to be conducted to ascertain the type of bullet used in the attack. It makes a mockery of the entire security system that people can work into a town and massacre innocent civilians and walk away. Where are the security agencies?
"All options should remain open because our people are not known for gang killings. It is alien to us.
"Such atrocious crime has never ever been committed anywhere in Biafra land before. We are not known for mass executions. It was the same thing that happened at Uzo Uwani in Enugu State, the same scenario.
"I wonder why the narratives coming out is that it is two brothers who are feuding in far away South Africa. Is that possible? Does that make sense?", Kanu queried.
He lashed out at the security agencies for the level of insecurity in the country, saying that they only show strength when it comes to combating peaceful agitators.
 Obi of Ozubulu condenms killing
Also, yesterday, the traditional ruler of Ozubulu, Obi Fidelix Nnandi Oruche, condemned the attack of his subjects who went to worship at St Philips Catholic Church, Ozubulu, describing it as callous, wicked, inhuman and cowardly, saying the perpetrators must not go unpunished.
The visibly worried and angry traditional ruler said government and the security agencies must fish out those behind it for punishment, adding that it was a sacrilege for anybody, no matter the provocation, to go into a church and attack innocent worshippers who went to pray to their God.
On alleged business disagreement involving their sons living in South Africa that may have led to the incident, he said there was no connection between the killings in the church and business transaction. Obi Oruche totally dismissed the claim, adding that those saying so  want to destroy the name of Ozubulu.
"How can anybody be talking about business transaction disagreement when people were shot and killed while worshiping in the church, there is no relationship between shooting people in the church and business transaction by anybody, we are not aware of such disagreement."
Uwazuruike gives BIM leaders 7 days to fish out suspects
Meanwhile the founder of Biafra Independence Movement, BIM, Chief Ralph Uwazuruike, has given seven days ultimatum to three zonal leaders of  BIM in Anambra State- Chief Arinze Igbani, Anambra South; Chief Vincent Ilo, Anambra North and Emmanuel Omenka, Anambra Central, to fish out the perpetrators of Ozubulu killings.
Uwazuritke, who condemned the killings, said it would not be encouraged in any part of Biafra land, and sympathized with the bereaved families.