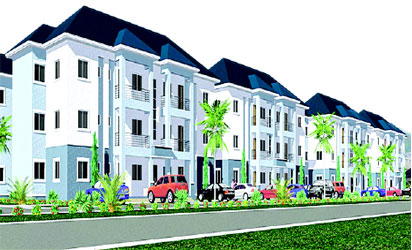 Residential estate
By Dennis Udoma & Chioma Onuegbu
UYO—Oriental Energy Resources Limited has performed the ground-breaking for the construction of a N700 million ultra-modern residential estate of 100 units in Enwang, Mbo Local Government Area of Akwa Ibom State.
The estate, named Oriental Village, when completed will have a solar-powered electricity system, a school, clinic, a shopping centre and will be donated freely to the indigenes of the area affected by natural disasters such as flooding and coastal encroachment.
The project being the first of its kind by an oil servicing company, is being built and funded exclusively by Oriental Energy Resources Limited and the Muhammadu Indimi Foundation as a legacy project for Oriental Energy's host communities in the state.
Oriental Energy Resources Limited, founded in 1990, is an indigenous oil and gas exploration and production company, with an average daily production of 23,000 bpd.
Currently, it is operating three acreages (Ebok, Okwok oil fields, and OML 115 offshore in Akwa Ibom State.
Speaking at the ground breaking ceremony of the project, Executive Chairman of the company, Alhaji Muhammadu Indimi , said "Oriental Village is clear manifestation of the company's commitment to sustainable development of its host communities.
"The housing initiative we have commissioned will leverage innovative housing technology to provide accommodation to 100 families in Mbo LGA.  There will be 100 units of one-bedroom flats, which will sit on a 2.5 hectares of land graciously provided by the good people of Eyo-Ukut and facilitated by the Enwang Council of Chiefs, led by our respected clan head.".
He stated that, the company will be dedicated to social inclusion of the host communities in its scheme of things and its approach is to grow alongside its communities in a socially responsible manner, while operating in an environment that fosters value creation and sustainable development.