*** Assure Of Transparency In Anambra PDP Primaries.
***Welcomes President Buhari Back From Medical Leave
As consolidation on the gains of the last People's Democratic Party (PDP) Non Elective Congress in Abuja continues, Governor Ifeanyi Okowa (Delta) Nyesom Wke (Rivers) Ayo Fayose (Ekiti) and Secretary, PDP Caretaker Committee, Senator Ben Obi converged on Asaba enroute Anambra for the PDP governorship primaries.
Speaking after the brief meeting at the Asaba international Airport, Chairman PDP Governors Forum, Mr. Ayo Fayose assured members of the party of fairness, transparency and Justice in party affairs.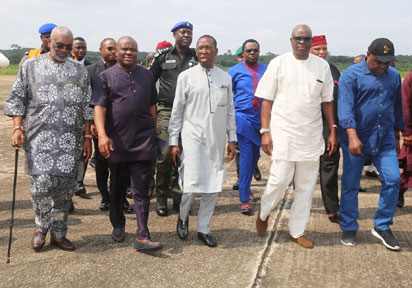 He said that the leadership of the party is re-strategizing to ensure success in future elections, assuring that the unity and reconciliation of party members would bring political gains in 2019.
"This is a new beginning for our party, it is part of the effort of our party to ensure due process and that everybody gets justice, with the calibre of men in this our National Committee you can be rest assured of transparency, justice and fairness." He said.
Governor Fayose congratulated the President on his return from his medical leave but reminded him that Nigerians are hungry not only for food but for development, he urged the Buhari led All Progressive Congress (APC) government to face governance squarely and deliver the gains of democracy to the people".
"We are happy that President Buhari is back, it is a welcome development but Nigerians are hungry, they need food, they need development. We in PDP knows what is right for Nigerians, democracy is strengthened by opposition, APC should face governance squarely and give Nigerians democratic dividends''.
He stressed that Governors elected on the platform of the Peoples Democratic Party are committed to working together with the Party leadership with a view to repositioning the party and eventually winning the 2019 national electio