By Chinonso Alozie
Owerri—Governor Rochas Okorocha of Imo State has given staff of office to   16 traditional rulers in the state.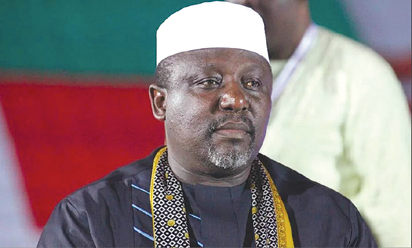 A statement issued to newsmen, yesterday, in Owerri, by Okorocha's Chief Press Secretary, Mr. Sam Onwuemedo, called on the traditional rulers to lead the path for development in their areas.
He also promised to pay pensioners in the state 100 per cent of their pensions next week.
According to the release, "the new traditional rulers should work for the progress and development of their communities. Any community that is not developing the people of that area should hold their traditional ruler and the Community Government Council, CGC, responsible."
On pensions, "the governor hinted that pensioners in the state will be paid their arrears in full next week, and his administration will continue to work and take steps that will ensure that pensioners in the state are paid as at when due.
"I have decided to pay with the help of the Paris Club refund of N7.1 billion.  Our pension is about N9 billion. I want to clear this pension. Last time I saw the pains of our pensioners; some of them especially those from levels 1- 7 were paid full pensions.
"Now I am making frantic efforts to make sure we pay all the pensions we are owing, 100% of their money."
"As I am doing this, I will like to seek the help of the Community Government Councils in identifying the fake pensioners; I still don't believe that Imo State will be the only state in Nigeria paying 1.5 billion naira as pension where states like Lagos pay 250 million naira.
"What I am paying as pension is more than what 15 States put together pay as pension. Something is wrong. I am partnering with a Chinese Company now to solve this problem."