By Johnbosco Agbakwuru
ABUJA— ENVIRONMENTAL disaster is looming in 10 communities of Etsako Local Government Area of Edo State over spillage of crude oil from the PPMC pipelines that are under repairs, which link Warri to Kaduna State.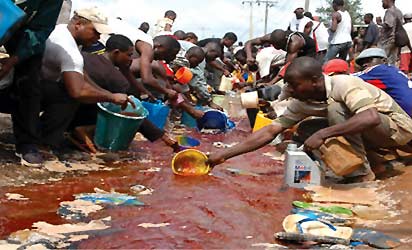 The spillage is already causing hardships in the affected communities as a result of the damage to aquatic life, rice farmland and plantations.
Meanwhile, the affected communities have sent a save-our-souls letter to the relevant authorities, including the Minister of State for Petroleum Resources, Ibe Kachikwu, to, without delay, carry out a clean-up and remediation of the polluted environment.
The communities, which are in Uzanu Kingdom, in the petition by their lawyer, Omobayo Omo-Ige, are demanding compensation and immediate provision of relief materials to cushion the effect of the spillage.
They further told the relevant authorities to commence assessment of damages caused by the spillage.
The petition, addressed to the Area Manager, Warri Area Office, PPMC-NNPC l, was also copied the Managing Director, NPSC/NNPC, Group Managing Director, NNPC, Minister of State for Petroleum Resources, the Zonal Head, National Oil Spill Detection and Response Agency, NOSDRA, Department of Petroleum Resources and the House of Representatives Chairman on Petroleum, Downstream.
The affected villages are Udochi Oke, Ukpeko, Ogwoyo, Ekwekpele, Yerowa, Ugbetaya, Unuobu, Okpeteku, Okhachama and Ikwemutha.