By Bartholomew Madukwe
The Minister of Labour and Employment, Dr. Chris Ngige, and two lawmakers, Sen. Duro Faseyi and Hon. Iboro Ekanem are to attend this year's9jaSAFE Award scheduled for September 15 at Oriental Hotel, Lekki area of Lagos.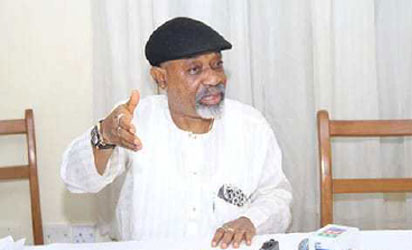 The event, which is organized by Safety Record Newspaper, would have Sterling Bank, MTN Nigeria, Business Contracting Limited (BCL) and other organizations receive award.
According to 9jaSAFE Award's Chief Coordinating Officer, Mr Femi Da-silva, the award was initiated to honor organizations and individuals that have achieved excellence in the field by the introduction, development and improvement of health, safety and environment initiatives and programs within their work environment and operating communities.
Da-silva, who is also the Managing Editor of Safety Record Newspaper, explained that according to the International Labour Organization (ILO), it is estimated that over 2.3 million fatalities and 300 million accidents causing injuries occur in the workplace globally every year.
He said: "Many of these results are not from natural causes but unsafe practices in our environment. We believethat adherence to proper corporate safety processes, enhanced government regulations and enforcement, in addition to aggressive safety advocacy, awareness and enlightenment are required to check this unwholesome trend.
"9jaSAFE Award is our humble contribution towards recognizing and rewarding initiatives geared towards promoting workplace safety. The award is to reward those that are doing the right thing in Health, Safety and Environment practice and thereby encouraging others to do same. Supporting the award event for this year are Hybrid Group, UPDC, Ikeja City Mall and others."
Da-silva hinted that nomination of awardees was thrown open to the general public between April and June 2017, which a five-man Panel of Judges comprising carefully-selected eminent safety professionals and regulators was then constituted to select winners from the pool of hundreds of nominations across the country.