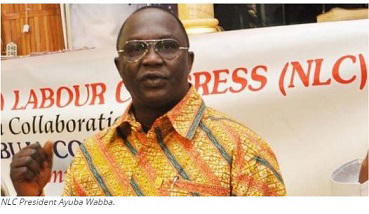 Ayuba Wabba, NLC President
The Nigeria Labour Congress (NLC) says it has submitted the names of its nominees for the 29 man-committee for the negotiation of the new National Minimum Wage.
NLC President Ayuba Wabba disclosed this in an interview with newsmen on Thursday in Abuja.
It would be recalled that the Federal Executive Council had on May 25 approved the constitution of the National Minimum Wage Committee to kick-start the process of negotiations for new wage for workers.
"Well the point we are now is that last week we received a letter that organised labour should actually forward the names of their nominees and you know we have eight and that we have done and dispatched.
"And what we expect now is the formal inauguration of the committee and the unveiling of the Chairperson and then the process should start in earnest with a timeline.
"That is what we expect but I think we have fulfilled all righteousness by making sure that we are able to submit our team.''
Wabba said that organised labour was aware of the situation of the workers and pensioners in the country, adding that labour would ensure that workers earn a living wage and pensions.
Wabba, however, called on all strata of government, including the private sector to be proactive in order for organised labour and workers not to be pushed to the wall.
"That is the position we are, but I think the fact of the matter is well known due to the issue of inflation and the high cost of living.
"This is obvious and it is also about respecting our laws and tradition. If it is said that within a circle of five years, the law must be reviewed, certainly we must find a way of doing it right.
"I think the bottom line is, none of the parties have said that those facts we have laid are not logical and nobody has said that the minimum wage will not be reviewed,'' Wabba said.
NAN