By Chioma Obinna
Last Monday, Nigeria joined the rest of the world to mark the end of this year's World Breastfeeding Week (August 1-7) held under the theme: "Sustaining Breastfeeding Together". The nation's slow progress on exclusive breastfeeding came into sharp focus.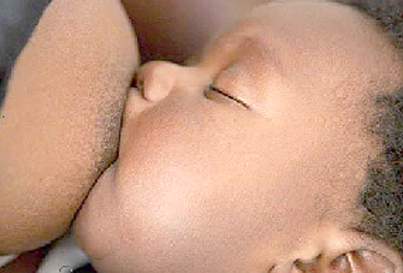 Nigerian mothers in the past took pride in breastfeeding their infants and the country's exclusive breastfeeding rates were among the highest in the world. But this is no longer the case. According to the United Nations Children's Fund, UNICEF, today, breastfeeding rates in Nigeria are amongst the lowest in the world at 25 per cent. Although scientists have shown how important breast milk is to the infant, not less than 103,742 children die annually in Nigeria due to lack of exclusive breastfeeding.
Findings have shown that exclusive breastfeeding alone can prevent the deaths of 2,300 babies that die every day due to preventable child-killer-diseases.
For decades, there have been questions on who owns the breasts leaving out the main benefits which studies have shown to have more value to babies than any other use.
Many Nigerian women had continued to hide under the guise that it may cause breast sagging while some have decided to keep it for their husbands.
Sunday Vanguard x-rays the attraction to breasts, why babies have exclusively right to breasts and the need for women to ensure that infants get the best of breastfeeding.
For decades, there have been many questions about the attraction for women's breasts, particularly, who owns them? Breasts are typically beautifully rounded goddess-like wonders, made of specialized tissue that produces milk (glandular tissue) as well as fatty tissue. The amount of fat determines the size of the breast.
Men have continued to claim exclusive right to their wives' breasts. Unsurprisingly, it has been on record that anything to do with a women's breasts are attractive to men.
Unfortunately, scientists have never satisfactorily explained men's curious breast fixation, but science discoveries have shown that babies are the main owners of the breasts.
The main job of breasts, of course, is to feed babies. Some researchers think that sexual interest in breasts simply hijacks the breastfeeding circuitry and uses it for another purpose.
They argue that producing milk from breasts is part of the reproduction cycle and that goes to show why a woman has no need for lactating breasts unless there is a baby to suckle. According to medical experts, not only can the woman's breasts feed and nurture a baby, the baby also needs only those breasts for the first six months of his life. This alone makes the breasts invaluable.
Short and long term benefits abound in breastfeeding. These benefits have attracted an amazing turn of popularity to breastfeeding in recent years.
Studies have shown that feeding infants with breast milk improves the baby's health and even IQ. Breastfeeding also lowers childhood obesity, decreases incidence of asthma and enhances the child's brain development.
Brazillian researchers say breastfed babies are more likely to turn into well-educated and higher-earning adults. But even if technicians could develop a better food for infants, researchers are now realizing that skipping the lactation phase would be problematic for mothers' health. In fact, not breastfeeding after giving birth seems to put women at higher risk for breast and ovarian cancer, diabetes, cardiovascular disease and many other serious health conditions.
The mechanisms behind these increased risks are still being sorted out, but researchers think that by not engaging in the process that the body prepares for during pregnancy, many crucial systems can go out of whack. And the effects can last for decades after children are weaned.
For instance, in nearly 6,000 babies followed from birth for three decades in Brazil, the researchers discovered long-term effects of breastfeeding. Those who had been breastfed proved to be more intelligent than those who had not.
They found that all the breastfed babies had greater intelligence, as measured by a standard IQ test, had spent more years in education and had higher earnings. But the longer they had been breastfed, the greater the benefits. Children who had been breastfed for 12 months had an IQ that was four points higher than those breastfed for less than a month, had nearly a year's more schooling and earned around £70 a month more – about a third more than the average income level.
Dr. Colin Michie, chair of the Royal College of Paediatrics and Child Health's Nutrition Committee, corroborating the Brazilian researchers' findings, said: "It's widely known that breastfed babies are better protected against chest and ear infections, are at less risk of sudden infant death and are less likely to become obese, but it's interesting to see the benefits of breastfeeding for a prolonged period of time not only benefit the baby in the early years, but also translate into increased intelligence and improved earning ability later in life".
Nonetheless, analyses published in the Lancet Global Health journal took account of the child's family income at birth, parental schooling, genomic ancestry, maternal smoking during pregnancy, maternal age, birth weight and type of delivery to try to avoid any of those factors skewing the results.
How breastfeeding benefit mothers
But the benefits of breastfeeding also appear to stay with mothers for years, lowering the risks of cardiovascular disease and cancer.
Said the Assistant Professor in the Division of Maternal Fetal Medicine at the University of North Carolina in Chapel Hill, Alison Stuebe, "The normal physiology is breastfeeding after pregnancy".
According to Stuebe, when women choose not to breastfeed, "there are myriad consequences, and we're just figuring them out".
In a study of data from 139,681 postmenopausal women in the U.S., those who breastfed for less than 12 months during their reproductive years had a higher risk for cardiovascular disease, diabetes, hyperlipidemia and hypertension than women who had lactated for more than a year. For women who never become pregnant, many of their risks seem to be closer to those who have children and breastfed.
Also, breast feeding helps to break down some of the fat that accumulates in women's bodies during pregnancy.
Breastfeeding helps mothers' cardiovascular health in very specific ways.
According to UNICEF Chief of Nutrition, Dr Stanley Nanama, breastfeeding protects women by decreasing their risk of developing breast, ovarian cancer and diabetes.
Nanama said breastfeeding does not only reduce the risk of cancer among mothers, it also helps to fast track reduction of excess fat from mothers after delivery.
He added that breastfeeding also contributes to the economic development of the nation.
"Beyond the individual breastfeeding benefits, the country will also benefit from improving breastfeeding practices through increase in educational attainment which optimally contributes to productivity," he said.
He regretted that eight out every 10 infants of less than six months in Nigeria were not exclusively breastfed, adding that this had contributed to the burden of malnutrition in the country.
Nanama explained that children who are not exclusively breastfed are denied the benefits of breastfeeding which include healthcare start in life and reinforced human system.
According to him, breast milk provides antibodies and healthy growth and the development required by children.
The UNICEF official, who identified children as the future of the country, said the best legacy Nigeria could leave for a better tomorrow was to invest in interventions that promote breastfeeding.
"UNICEF has been providing technical and financial support to the government to scale up nutrition in general, especially maternal, infants and young child feeding", he added.