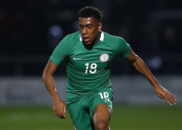 Alex Iwobi
Arsenal midfielder Alex Iwobi believes a full preseason has put him in great shape for the new campaign.
Iwobi has shone in their opening two games.
"I did a lot of offseason work," Iwobi told Arsenal Player. "I was doing a lot of running, a lot of fitness work.
"I would also go and play football with a couple of friends who are at different clubs so I was prepared for the season – I wanted to prove my point from day one.
"[I wanted to impress], especially as towards the end of last season I didn't play as much as I would have liked. Pre-season is a great way to get yourself ready, and I feel sharp, confident and ready to play games this year.
"I am happy with my form, but I still have a lot more to prove as it was only pre-season – I just have to carry it on now.
"In the position I am in, I need to get goals and create chances so normally after training or when I am at home, I go out on the field with my Dad and just practice my finishing. There's always areas of my game that I need to