By Dayo Johnson, Akure
A 72-year-old grandmother, Victoria Akinseye, was in tears as she displayed the torn under wears she wore the day suspected herdsmen took turns to rape her on her farm in Ore, Odigbo council area of Ondo State.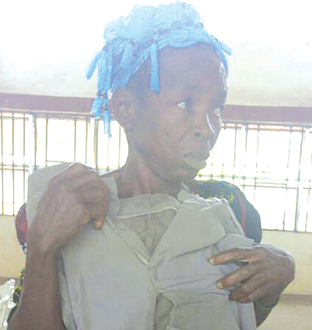 Victoria said the herdsmen had done the unthinkable and would reap the fruit of their wickedness to her.
Actually two women were raped same day at different farms and times in the agrarian community by suspected herdsmen.
The other victim, Ebun Olarewaju, is much younger.
Early this month, a farmer, identified as Orimisan Omowole, was also hacked to death by suspected herdsmen in the town.
Narrating her ordeal, Akinseye said, "I was working on my farm when two men attacked me from behind, held my neck such that I couldn't ask for help. They tore my clothes and took turns to rape me."
According to her, a fellow farmer who was on his way to his farm later that day saw her where the herdsmen had abandoned her after the rape and took her home.
She said her life had not remained the same since after the rape.
'"When we reported the incident to our monarch, we were told I must do a sacrifice, to prevent any bad occurrence in my family. I even had to beg for money to buy items for the ritual. My life is in ruins".
The septuagenarian farmer said she had however cursed those who raped her for their wickedness to "an old woman who could have been of the same age with their mothers."
Disturbed by the latest development, youths and farmers across the 18 council areas of the state marched through the streets of Akure, the state capital, protesting the menace of herdsmen.
For hours, the protesters disrupted business and commercial activities.
The protesters, acting under the auspices of Ondo State Youth Coalition, OSYC, threatened "to take the law into their hands if the state government failed to address the issue immediately".
They described herdsmen's activities as dangerous and a signal of imminent crisis in Ondo State.
Their spokesperson, Olusola Adekanmbi, said herdsmen had "not only raped and destroyed farms in the state, they had also resorted to killing, terrorising and kidnapping farmers on their farmlands".
He went on: "One of the farmers, Orimisan Omowole, was murdered in his farm in Odigbo local government area of the state.
"After killing him, they took out his heart and placed it on his chest
"We are not against cattle rearing or saying cattle rearing should be banned but we want free grazing of cattle in our farms at our expense with wanton destruction of our crops and means of livelihood to be stopped forthwith.
"Cattle-rearing is a legitimate and profitable business.
"But it is not acceptable for cattle-rearers to do their business at our expense and even at the expense of our lives and security.
"We believe the herdsmen have refused to do what civilised herdsmen do worldwide by confining their cattle to ranches and similar enclosure because to do so would mean their having to bear the cost of feeding their cattle".
The protesters pleaded with Governor Rotimi Akeredolu and the state House of Assembly to enact a law to stop incessant attacks by herdsmen in order to protect farmers and their farms and to ensure security of lives.
"The herdsmen are trying to make farming impossible for our people who are now afraid to go to their farms", the OSYC leader said.
"The Fulani herdsmen have become terrorists who attack, kill, maim and rape our women and even burn their farms.
"They are taking advantage of our civilised way of life for cowardice but if we are pushed beyond our tolerant threshold, we can be militant as the other groups and they should take notice that terror breeds terror."
Meanwhile, the state government is said to be proposing an anti – open grazing bill to curtail herdsmen's attacks in Ondo.
Sources close to government said cases of destruction of farmlands, incessant attacks and killing of farmers and rape of women in the last three weeks was worrisome.
Speaking with Sunday Vanguard, the Senior Special Assistant to the State Governor on Agriculture, Mr.   Akin   Olotu, said the menace of herdsmen was getting out of hand,   saying no fewer than four farmers were killed in the last three weeks by suspected herdsmen.
Apart from this, Olotu said about ten hectares of cassava farmland was destroyed by suspected herdsmen and their cattle in Owo while some farmers were injured during the attack.
He said the activities of herdsmen were not limited to a particular area in the state but across the state.
"The state government is worried about this development. Though herdsmen are doing their business, they have been using their business to destroy other businesses.
"The destruction of farmlands has been a source of concern to farmers in the state, while those who are just embracing farming, as a source of livelihood, have been discouraged.
"Farmers have lost a lot of money to these destructions after obtaining loans from bank to finance farm projects. Farm produce cannot be stored in the barn any longer".
According to him, ponds and apiary worth millions of Naira were destroyed by cattle and herdsmen in a particular location in the state, saying the fishes were harvested while the honey comb was stolen by the invading herdsmen.
He hinted that the state government was proposing anti-open grazing bill to stem down the menace of herdsmen while herdsmen operating in the state and their cows would be registered with codes to identify them.
Olotu, who advocated for the modern method of rearing cattle in the country, called on security agencies and stakeholders to find a lasting solution to the frequent clashes between herdsmen and farmers in the state.
Ondo State Police Command confirmed the arrest of some suspects in connection with the killing of the farmer in Ore.
Its image maker Femi Joseph said the command was not folding its hands but working to ensure that the people of the state sleep with their two eyes closed.
Joseph promised hard times for criminals in Ondo, advising them to either repent from their evil ways or relocate from the state.