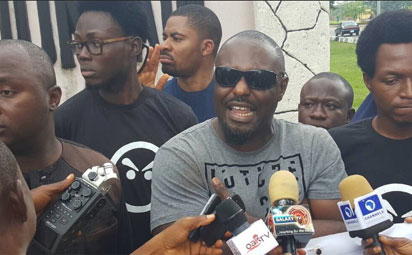 Jim Iyke addressing the protesters
…As he (Jim Iyke) and Aisha Yesufu join Resume or Resign protesters in Abuja
By Nwafor Sunday
The popular Nollywood actor, Jim Iyke together with co-convener of the Bring Back Our Girls (BBOG) movement, Aisha Yesufu, Wednesday, joined 'Resume or Resign' protesters seeking for the resignation or the resumption of president Buhari who has been outside the country for medical vacation for over 90 days now.
Jim Iyke who added to the number of the protesters today told newsmen in Abuja that "No matter what happens, the group would be united.
"Enough is enough. It is a simple thing, our mantra is one and our decision is one.
"Unequivocally, we are saying that the president either resumes or resigns. It is natural when you get old; you shift and let the young ones take over."
Similarly, Aisha Yesufu who has been criticising Buhari's led administration appended her opinion with that of the rest of group.
According to her, "when are we going to realise that this acting president thing is not working out, it's really not working out.
"Things are stagnating in Nigeria, for crying out loud, the president is sick, the president is not capable of discharging his duty as president, why can't he resign."
Recall that Mr. Garbar Shehu and Lauretta Onochie, both presidential media aides have criticised and condemned in totality the staged protest saying that Buhari has not violated any constitutional law.