By Ochereome Nnanna
WHEN  a piece of bone gets stuck in the throat, refusing to go down or come back up, do you slit the throat to remove the bone? When a wasp perches on your scrotum, do you use a hammer to trying killing it? The answer is "no". You have to calm down and apply wisdom. Otherwise, you will regret. A wise person goes out to solve a problem, not multiply it.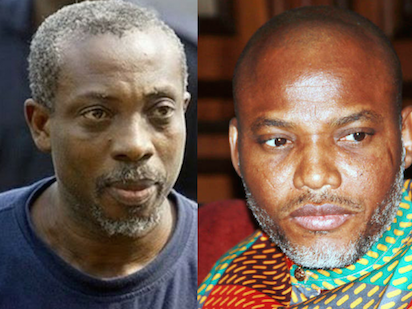 The atmosphere of clannish rule propagated by President Muhammadu Buhari has spawned predictable consequences. The old centrifugal forces that have gone against our national integration have been unchained, and new ones are crawling out of the woodwork.
For more than twenty years, Barrister Ralph Uwazuruike had led his Movement for the Actualisation of the Sovereign State of Biafra, MASSOB. Their activities went unnoticed because Nigeria does not listen to words politely uttered. You have to speak with force or violence and back it up with commensurate demonstration of intent before Nigeria and Nigerians take note.
Before the coming of Nnamdi Kanu and his Radio Biafra a little over two years ago, Biafra agitators were looked down upon as a bunch of jokers. Even now, people who have not gone close enough to these chaps think they are jobless people being sponsored by some politicians or local elite to blackmail Nigeria into giving up undeserved privileges to the Igbo nation. Little do they know that these young ones have been radicalised by the unbending attitude of Nigeria to the Igbo nation such that they no longer give Nigeria a thought. Nothing else will do except total freedom which Biafra symbolises.
Nnamdi Kanu still professes a peaceful approach to his Biafra project. All he is asking for is a referendum to give the people the opportunity to decide whether they want to stay within Nigeria or go and form their own separate sovereign nation. His voice is being taken more seriously than Uwazuruike's because he is speaking with force and (verbal, though not armed) violence. Millions of Eastern youths have flocked to his side.
His arrest, detention and trial ballooned his image  sky-high. When he came out on bail, he became the new torch-bearer for pro-Biafra elements. He proved his fettle on 30th May 2017 when his call for a sit-at-home protest successfully shut down his native South East Zone, to the consternation of many concerned Nigerians.
Then enter the Arewa Youths Consultative Forum, AYCF. On 6th June 2017, they gathered  at Arewa House, Kaduna and reacted rather irrationally to the Biafra agitation by  issuing Igbo people living in the North quit notice by 1st October 2017, saying the North would pull out of Nigeria unless that was done. To be fair to them, they never really openly threatened violence to back up their demand, though people read that meaning into their ultimatum, given the blood-soaked track record of the region which is the most violent of our geopolitical precincts.
Apparently alarmed, Governor Nasir el Rufai of Kaduna State seemed to spit fire. He asked the Police to arrest all those behind the quit notice. The Chairman of the Northern Governors, Kashim Shettima of Borno State, dismissed their threat, calling them nonentities who cannot win councillorship elections. Traditional rulers and political leaders across the North spoke up against the quit order, and the Middle Belt section of the old North distanced itself from the threat to the Igbo or any other group residing among them. However, the Arewa Youths remained adamant and even challenged the Police to come and arrest them.
Two months later, no single arrest has been made. Many Nigerians are outraged at what appears as the inability of the Police and other law-enforcement agencies to crack down on Nnamdi Kanu and the Arewa Youths for threatening the peace and unity of the country. Ordinarily, those behind these activities should be behind bars and facing serious charges in court. That is not happening.
What we saw, instead, was Governor Shettima posing for photographs with a delegation of Arewa Youths whom he had invited for talks at the Government House, Maiduguri. Rather than getting arrested, the Youths have been under pressure by many Northern leaders to publicly rescind the quit notice. From the look of things, barring unforeseen circumstances, we expect that to be done soon.
From Day One, I have never really thought the Arewa Youths would be arrested, and I have never really thought arresting them would solve any problem. Rather, I have always cautioned that the situation did not call for rash action. The same thing applies to the debacle presented by the Biafra agitators. As long as the Biafra Youths and Arewa Youths refrain from violence or harassment of any Nigerian resident among them, it is best to engage them through the "soft" approach: dialogue and diplomacy.
If you fight fire with fire you will get more fire and create undeserved "heroes". If you want to make the Arewa Youth heroes, then go ahead and arrest them. Before you know it the issue could be mixed with religion, and the 10 million out-of-school al majiris roaming the streets could become their foot soldiers. When that happens, I do not see how a reprisal would be averted in other parts of the country, with such a charged atmosphere we live in.
I want to congratulate the Northern leaders, Governor Kashim Shettima and traditional rulers for reining in their youth; and also Igbo leaders who have been working on the Biafra agitators from behind the scene. Kudos to the Nigerian Police and security agencies which have tactfully engaged Nnamdi Kanu and his group for applying wisdom in dealing with this explosive situation. We have learned and grown in the past two years that you don't fight fire with fire.
Democracy is a game of people engagement, and in the absence of President Buhari, we have done well.