By Prince Osuagwu
THE Federal Government has given power to the National Identity Management Commission, NIMC, to make the National Identity Number, NIN, a major pre-condition to becoming a citizen of Nigeria. What this means is that those who have not taken part in the NIMC registration exercise, are running the risk of not being recognised as Nigerian citizens.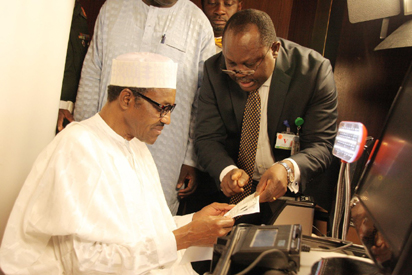 In addition they may not be able to renew their driver's licence, international passport and other important papers as government says it has concluded arrangement to begin enforcement soon.
In fact, Director-General of the National Identity Management Commission (NIMC), Engr. Aliyu Aziz, at a press conference in Lagos, warned that any Nigerian without the National Identification Number (NIN) issued by the commission runs the risk of being regarded as a non-Nigerian citizen.
He, however, revealed government's willingness, to further enlighten citizens on the importance of enrolling to obtain the National Identification Number, after which it will begin enforcement immediately. He said that NIN fully confers on any citizen so enrolled, Nigerian citizenship.
Aziz said: "It is the duty of every citizen to enrol and obtain his or her National Identification Number, which entitles one to be fully regarded as a Nigerian citizen. Without the NIN anyone's claims of being a Nigerian citizen are doubtful; that is what the NIMC Act stipulates."
Formation of NIMC
Recall that NIMC was established by the NIMC Act No. 23 of 2007, as an offshoot of the Department of National Civic Registration (DNCR), to create, establish and maintain a Unique National Identity Database, register persons covered by the Act, assign a Unique National Identification Number (NIN), provide authentication platform for identity verification, issue General Multi-Purpose Cards (GMPC) and harmonise and integrate existing identification databases in Nigeria.
Enrolment centres
So far, the commission says it has populated the National Identity Database, which currently boasts of about 18.5 million records, established up to 809 NIN enrolment centres nationwide, launched the new electronic National ID Card with multiple functions, achieved GVCP Certification and recertification of the NIMC Card Personalisation Bureau in 2014, 2015, 2016 and 2017, as well as deploying backend Infrastructures like the ABIS, NIDB Storage, security network and data centres. The commission also has commenced the enrolment of minors between the ages 0 – 16.
Benefits of NIN
Besides conferring full citizenship on a person, National Identity Number, NIN also ensures one person one identity, enhances participation in the political process, is an important tool for fight against corruption and terrorism, enables citizens to exercise their rights and facilitates management of subsidies and safety net payments to Internal Displaced Persons.
Other benefits of the NIN are that it facilitates service delivery in Ministries, Departments and Agencies; enhances the work of Law Enforcement Agencies thereby providing public safety, policing, national security and border protection, helps launder Nigeria's image, elimination of ghost and multiple identities and enhances ability of citizens to assert their identity.
The NIN also enhances access to credit from financial institutions, protects citizens from identity theft thereby being an antidote to identity theft driven frauds, it expands access to other financial services including insurance, it enhances e-commerce by providing a means of payment, it is a tool for non-repudiation and security for financial transactions and it facilitates financial inclusion and encourages cashless economy.