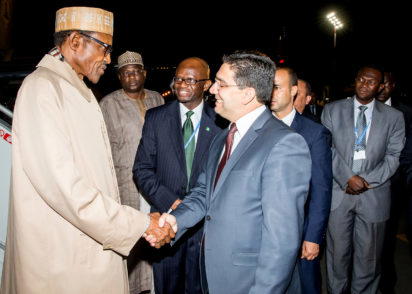 President Buhari being welcomed by Minister Delegate to the Minister of Foreign Affairs and Cooperation of Morocco Mr Nasser Bourita at the Mogado International Airport as he arrives Morocco ahead of Climate Change Conference COP 22 in Marrakech On 14th Nov 2016
–Declares state of emergency on science and technology
—Gives 3-yr tax rebate to pioneer industries in Nigeria
By Johnbosco Agbakwuru
ABUJA – THE Federal Executive Council, FEC, Wednesday approved a new policy that for any foreign professionals to practice in Nigeria, they have to be registered and certified by all the necessary regulatory bodies.
This is as the Federal Government has declared a state of emergency on science and technology to boost technological acquisition for the industrial growth of the country.
Meantime, to attract foreign industries, the Federal Executive Council has approved tax rebate which will serve as an incentive for pioneer industries operating in Nigeria.
Briefing State House Correspondents after weekly FEC meeting at the Council Chamber, Presidential Villa Abuja, the Minister of Science and Technology, Dr. Ogbonnaya Onu said, "We agreed that from now on, any person who wants to practice any profession that has anything to do with science, engineering and technology, medical doctors, accountants, quantity surveyors just to mention but a few, that first they have to be certified by appropriate regulatory bodies in Nigeria."
The Minister said that FEC in its deliberations approved policy that will help to change the direction that will be taken as a nation, a direction that will be very useful in helping to start looking inwards to produce the things that the country needs as against depending on outside to import our requirements.
He said, "Some of the highlights will involve where we have bulk purchases major items that will bring into the country those who normally would have supplied from outside the country will now come to Nigeria and establish their factories to produce in Nigeria.
"By doing so, they will offer job opportunities to our people, tax will be paid to government, wealth will be created and most importantly, Nigeria will now acquire the necessary technology that will help us build capacity.
"This is very important in our building our local capacity. There are so many areas that this new policy has coved because the aim of this new policy is to make sure that in the next ten years, Nigeria firms will be in a position to carry out very complex jobs. A sort of jobs that we don't currently have the expertise to do in the country.
"And for such jobs, we will rely on foreign expertise and foreign firms for now but when they come, they have to work with Nigerian firms so that these Nigerian firms will understudy them and this will be from the conception to the commissioning.
"That is the only way that we can hope to acquire to acquire the necessary technology to build our local capacity because our aim is like in the next ten years like I said we will be able to have own domestic firms, Nigerian firms to carry out all these jobs.
"And in about 20 years, we want to see Nigerian firms competing with the very best in the world.
"So, the Federal Executive Council, accepted to declare a state of emergency for science and technology and this is very important because even the economic recovery and growth plan 2018 to 2020 recognizes the cardinal place of science and technology in driving this recovery and growth plan of government.
"We are not looking for transfer of technology because we know it will not happen, what we are looking for is acquisition of technology and we are interested in building our own capacity.
"We are convinced that we can do this and we believe that with the approval given to this policy once implemented, we will be in a position to acquire technology.
"This policy is a very comprehensive policy. We will pay a lot of attention to training. We will make sure that we have all the artisans we need, all the technicians that we need so that once somebody is building a house, once you get up to finishing of that house, you are most likely going to bring people from outside country. Many of them come from our neighbouring countries. This we will not allow to continue. So we want to build the requisite manpower.
"We will also use the Ministry of Interior to help us with a new classification in our immigration policy. Those areas that we lack expertise as of now, we will use that classification to bring in those who have such expertise particularly from African countries.
"Then we will also be working closely with Nigerians in the Diaspora because many Nigerians outside the country have a lot of skills which we need at this time particularly in order to implement this policy, we will be working with them."
FG approves tax rebate for pioneer industries
Also briefing journalists, the Minister of Industry, Trade and Investment, Okechukwu Enalema said government has approved tax rebate for pioneer industry to establish in the country, noting that the policy was to serve as an incentive to attract new investors.
The Minister said, "FEC approved a memorandum that was presented to amend the list of pioneer industries and products that will enjoy pioneer status going forward.
"As many of you know the pioneer incentive scheme is governed by ye Industrial Development Income Tax Relief Act and the whole purpose is to give tax holidays to industries we consider pioneer.
"Pioneer doesn't mean that they are new it only means that they are not yet mature, we want those industries to grow. We want to attract investment in them and you will find that this covers a wide range of industries and those tax holidays ranges from three to five years.
"The pioneer list was last reviewed by the Federal Executive Council in 2006, so you could see that this was long overdue.
"On doing the review, special attention was paid to the ERGP to capture the current realities that will help to implement the plan to make sure we attract the kind of investment, industries and players that will help to implement and realize our objectives in the ERGP.
"I should also point out that there was multi stakeholder engagement, private and public sector in arriving at the industries that will be included in the pioneer incentive scheme.
"In terms of the recommendations approved by FEC today: we have tried to remove all ambiguities in the definition of industries by reclassifying industries according to the international standard in industrial classification which is the global standard which is also the standard that is used by the Nigeria Bureau of Statistics.
"The other thing we also did is to agree that the pioneer list will be reviewed regularly every two years, biannually so that just that if things come up, we live in a fast changing world and we are being responsive to our world. In the case of additions to the list they will be effected immediately, for deletion of industries that we consider mature there will be a three year window that will be allowed for those that are already investing in that industry that were enjoying pioneer status to carry on till the end of that three year period.
"Against this backdrop, we then approved 27 industries that were recommended for addition to the pioneer list today.
"We also recommended and it was accepted by the Council that mineral oil prospecting which is governed by the Petroleum Profit Tax should not be part of the pioneer industries list which is really industries governed by the Companies Income Tax Act.
"It was also accepted that given the success we have achieved in cement which are now net exporters, maybe that is an industry which we could say that we are now where we want to be in terms of maturity even though there is still a lot of scope for the application and the use of cement and you know that will continue. We already have critical mass in cement
"The scheme will ensure that it will not deprive us of revenue. It is an incentive to make people enter your market, new enter industries, invest more for people who are already here. It will increase our tax base over time."