The Football Association is facing questions over why it paid "hush money" to international footballer Eni Aluko after it emerged that a bullying complaint against the England manager, Mark Sampson, included an allegation that he made a remark with "racial and prejudicial connotations" to another player.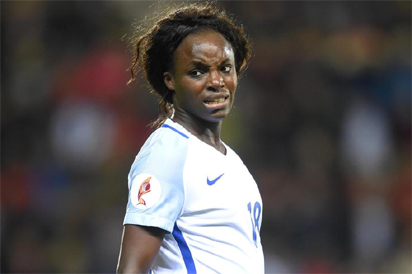 Aluko, one of England's most recognisable female footballers with 102 caps, was paid around £80,000 to sign an agreement that the FA claims was to "avoid disruption" ahead of this summer's Euro 2017. Aluko's lawyers believe that the agreement she signed prevents her from speaking about it but the FA insists she is now free to talk about the facts of the case.
her complaint contained an allegation that Sampson made a "highly inappropriate" remark with whereby he asked a mixed race player how many times she had been in trouble with the police.
"During a meeting with the midfielders' unit of players, of which I was not present, MS [Sampson] used an analogy about pressing hard in midfield and getting a caution like a police caution," Aluko's evidence states.
"MS then addressed the player individually and said in relation to being cautioned by police: 'Haven't you been arrested before? Four times isn't it?'"
Aluko, whose brother Sone plays for Fulham, was last season's top scorer in the Women's Super League and featured in the Professional Footballers' Association women's Team of the Year.