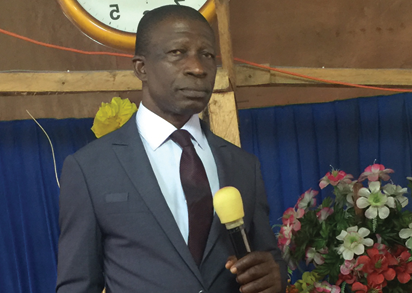 Pastor Bamidele
By Pastor Layi Bamidele
Once you engage yourself in a relationship with a man or woman that is degrading the name of his servant or the church of God, watch it, you are already engaging yourself in a journey you cannot end or finish.
It is unfortunate that most people that are called to serve either as a steward to his servant or as a worker in the vineyard ended up as a casualties instead of them to be blessed. Geazi also served, but his destiny was consumed by his greed or urges to equate himself with his servant, he ended up his life in horror and disgrace.
In the book of Hebrew 12:28-29,the bible says "wherefore we receiving a kingdom,which cannot be moved, let us have Grace, whereby we may serve God acceplably with reverence and godly fear, for our God is a consuming fire".if you are not careful sometimes your service can become a curse.
You can see that in the book of Leviticus 10:1-2, how Nadab and Abihu the son of Aaron took of his censer, and put fire therein and put incense thereon, and offered strange fire before the Lord,which he commanded them not, in verse 2 the Bible says and there went out a fire from the Lord, and devoured then, and they died before the Lord.
From my own personal point of view in ministry, I ve discovered that most promising young men who seek relationship with God's servant in higher position is for the purpose of material gain from such association. Most young men and women these days are carnally looking for ladder's to climb up with.
Not only is the motive wrong, they end up discovering the ladder breaking in their leg. Don't seek relationship with someone ahead if you because of what you want to gain personally, let service be your motive, such game do start well but it doesn't end well. Remember what the Bible says that he that is greatest among you shall be your servant. And whosoever shall exalt himself shall be abased, and he that shall humble himself shall be exalted. Matthew 23:11-12.
You must learn to offer an acceptable service unto God, and while doing these, you must be totally focused, if you are not focused, you will be devailed by men or women without focus. Your motivation for God's service must be right, if you are serving God for material things, you will end up with nothing in life. If all you are doing is for people to praise and acknowledge you for your good works, then you are doomed, the same set of people will mock you when you find yourself on the ground, Infact they will not even look at you as being ever useful for God before. Don't listen to the applause of men, otherwise you are doomed.
It is a hard thing to work against your priest, the Bible says in the book of Isaiah 45:9″woe unto him that striveth with his maker, let the potsherd strive with the potsherds of the earth, shall the clay say to him that fashioneth it, what maketh thou? or thy work,he hath no hands?. Don't work against your church, working against your church is working against your future.Every step you take open you up to your rising or your falling. Be careful .
Keep praying for the church. In the book of psalms 122:6&9 the Bible says "pray for the peace of Jerusalem;they shall prosper that love thee" verse 9 says "Because of the house of the Lord our God, I will seek thy good". Who has contented with God and prosper, in the book of job 9:4 says"He is wise in heart:who hath hardened himself against him one of a thousand".Also in the book of Matthew 21:44 it says "And whosoever shall fall on this stone shall be broken : but on whomsoever it shall, it will ground him to powder".this is what become of you when you pitch your tent against the church.when you pitch your tent against the church, you will be grounded.No one ever pitch his tent against the church, that his destiny is not ruined at the end. It is the gateway to hardship unlimited.
Exercise caution against the church or where God's name is mention. Only a fool engages someone that is stronger than him in a fight. You don't need much of stress to be successful,you only need log of sense. Everytime you don't have a heart for his work, you are only destroying your destiny, if you don't love the good of the church, what are you still doing in that church,everyone that is not seeking the good of the church will hardly see good.
Never hang around those who speak low of the body of Christ. Becareful of the Leathering ,what you speak in your bedroom If you must prosper you must not contend with the church of God, when you do so God will strip you naked. You can't call God's name in carnality and expect spiritual maturity.