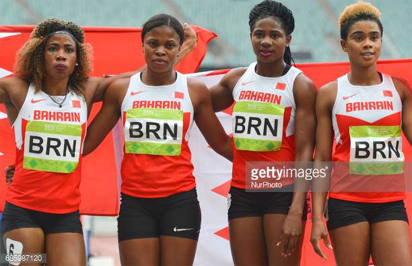 •Bahrain Rain…Nigerian girls now running for Bahrain as their country failed to provide better life. (From left) Oluwakemi Adekoya, Edidiong Ofonime Odiong, Aminat Jamal and Selwa Eid Naser enjoying sports life in Bahrain.
By Ben Efe
Sprint and jumps coach, John Obeya said Nigerian sports officials have themselves to blame for the exodus of Nigerian athletes to other countries. Benue-born Obeya, influenced the movement of talented Nigerian juniors to Bahrain, including Salwa Eid Naser who won a 400m silver for the Arab country in the star-studded women 400m event of the IAAF World Championships.
The 19-year-old athlete formerly known as Ebele Agbapuonwu had her first ever competition at the 2013 School Sports Festival in Port Harcourt, but within a space of four years she had been transformed to a world class athlete. Obeya argued that she couldn't have achieved the aim if she had remained in Nigeria.
"Nigeria needs to make the welfare of its athletes the most paramount of its programmes and also develop these talents to ensure they stay in the country.
"We cannot boast of any world class athlete apart from Blessing Okagbare. If the government of Nigeria is desirous of getting results they need to look at what other countries are doing to make their athletes and coaches excel.
"I was a coach who had done a lot for Nigeria but at a point I was jobless and was heading to a life of suffering before I came here. I had been with the Nigerian team to several Olympic Games but I have nothing to show for it," Obeya said in an interview with the Making of Champions magazine.
"Nigeria never cares for its athletes until they switch over and begin to excel in other countries.
"Bahrain is not all about coming out to poach athletes from Nigeria. It is because their athlete welfare schemes are good and there is no way that is hidden; athletes want a good life, And that is why they switch over, and it is purely their decision.