By Rose Moses
In what would pass as the worst attack by the deadly terrorist group since February 2 last year when 58 people were killed in a twin suicide bomb attacks at a camp for the displaced in Dikwa town of Borno State, Nigerians, last week, were jolted by the sad news of another terrorist attack.
Target was an oil exploration team from the Nigerian National Petroleum Corporation (NNPC) in an incident that left 69 people killed. Yet, at every twist and turn, the APC led Federal Government would remind us that Boko Haram has been decimated, technically.
The attack followed an ambush near Magumeri, in Borno that killed 19 soldiers, 33 militia members and 17 civilians, while three staffers from the University of Maiduguri were kidnapped.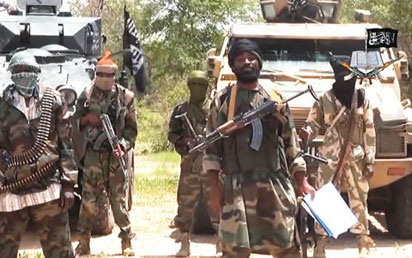 Video of the trio has since been published, in which they are appealing to the acting president to meet their abductors' demands in order to be released alive.
The exploration team was hunting for crude in the Lake Chad basin as part of efforts to diversify supply and boost reserves.
Said to have been carried out by the Islamic State-supported faction headed by Abu Mus'ab al-Barnawi, the attack, no doubt, affirms existence of emboldened Boko Haram, which goes to contradict government's claims of it being decimated.
If government has been unable to rebuild civilian structures and institutions in areas previously captured, neither has it been able to rescue the remaining abducted Chibok school girls, saying that the sect has been decimated may well mean different things to different persons.
Analysts would argue that a country ravaged by terrorist activities is not in a position to claim defeat of terrorism when it is yet to rebuild recovered territories, and when it is yet to rehabilitated victims of such heinous activities.
And in a report released recently, the United States is clearly in doubt of Federal Government's ability to effectively secure and hold onto territories recaptured from Boko Haram terrorists despite successes recorded by the Multi-National joint task force.
Much as we may choose to ignore the US report, the military's response on national television to the ambush attack, however, leaves much to the imagination.
Director of Defence Information, Major General John Enenche, may have been caught in the web of the blame game when he blamed the attack on "information the insurgents get from informants."
Enenche had noted that unless the terrorists were given adequate information about the progress of the exploration exercise, the NNPC team would not have fallen into the ambush.
Coming from the DDI, such explanation sounds very curious. Anyone that has followed activities of Boko Haram should know they operate with information/informants. And which group, really, operates without information or informants?
More so, former President Goodluck Jonathan once cried out that members of the sect had infiltrated almost all national institutions, including his then government. What then did the military do with such piece of information, assuming they did not know before now of fifth columnists?
What exactly is counter terrorism all about? What happened to intelligence unit and reports?
The DDI's explanation is capable of sending out wrong message that our military may have relaxed in the euphoria that Boko Haram was decimated, a development that may well support the US report indicating that the Federal Government's progress report on the fight against terror is "merely a duplication of failed efforts carried over from end of last year's fighting season."
It would have been understandable if the military high command, rather than publicly blaming imagined 'informants,' had stopped at admitting that they were taken unawares in that ambush attack.
In an enclave of a terrorists group like Borno, such ambush is quite foreseeable and probable. Unfortunately, steps were not taken to preempt it, an error of judgment that authorities concerned should just regret. Arguing that informants betrayed the movement to the terrorists is neither here nor there.
The attack, to a large extent, is one of intelligence failure and the military needs to step up its counter-intelligence activities around such territories by also getting to know what is going on in the minds and camp of the militants.
In it all, what this goes to suggest is that the terrorists are still very much on ground. The military, which must be commended for its efforts in the war, must resist the distraction of political statements like Boko Haram being decimated.
Much as we all wish for it, for now and as they say, it's just a word to thousands of victims, who still live in fear, having lost many of their family members and relations to the insurgents, with no homes to return to and are raped and battered daily by the hard reality of their circumstance.