By Egufe Yafugborhi
WARRI—THE House of Representatives yesterday, said it will re-invite the Minister of Petroleum, Dr. Ibe Kachikwu to explain why the nation's refineries have collapsed again months after reporting their resumed operations.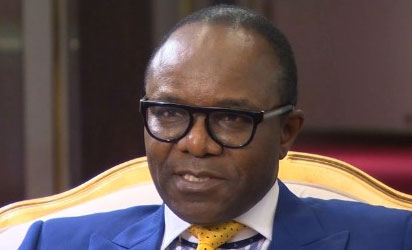 Chairman, House Committee on Petroleum Resources, Downstream, Akinlaja Joseph, disclosed this at Ifiekporo, Warri South Local Government Area, Delta State, during the committee's oversight visit to the tank farm of Matrix Energy Limited in efforts to get stakeholders' perspective on prohibitive kerosene cost and the recurring problems associated with adulteration of the product.
Following revelations from stakeholders that the Warri Refinery and that of Port Harcourt were currently not producing with similar doubt over the one in Kaduna,  Akinlaja expressed pain over the general failure of infrastructure in Nigeria.
He said, "It's quite unfortunate that in Nigeria,  infrastructure do not work. We will make laws, but implementation of the laws is also important. How can we have four refineries of 445,000 barrels capacity and we are still importing fuel, it's a national shame, all of us have to be concerned.
"We will invite the minister and ask him because the last time we visited the refineries, he told us certain things. We saw the 1965 refinery and there was flame, which meant it had started working, we are surprised that six months after, it has gone down again.
"When this refinery in Warri was established in 1978, the turnaround maintenance was done by Nigerians, suddenly the award of contracts has jeopardised this, rendering Nigerian engineers idle, receiving salaries for no work done. These are issues that the House will be looking into."
On the prohibitive cost of kerosene and the proliferation of killer product, Managing Director/Chief Executive Officer at Matrix, Abdulkabir Aliu told the House members that it was unimaginable to talk of cheaper kerosene in the atmosphere of inadequate supply in addition to dependence on importation without concession on dollars for kerosene importation as it is for petrol.
Among his suggestions to sanitize the downstream, particularly for lowering kerosene cost, Aliu said, "The intervention fund that allows concession of cheaper dollars for AGO importation should be extended to kerosene. Also, government should lead importation when local refineries fail.
"However, the real way out of the problem is for stakeholders to phase out use of kerosene and concentrate resources on encouraging cooking gas.
"I have been to Benin Republic, Ghana, many West African countries. They don't even know what kerosene is, they use gas which is cheaper and safer. I think Nigeria is just one of about three countries that depend on kerosene. And it should not be so because we are a big producer of gas," he said.