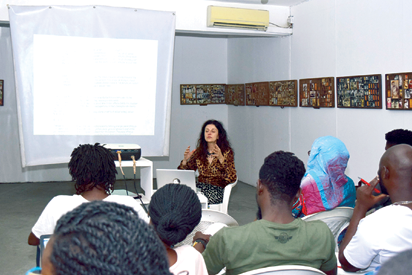 Eva Maria Ocherbauer teaching
By Japhet Alakam
Eva Maria Ocherbauer is an internationally acclaimed Austrian photographer, working with interdisciplinary processes, integrating sculpture, painting and performance into her photographic practice. She is based in Berlin and lectures in Berlin school of photography. She started with Lagos Photo summer school, and later the Lagosfoto foundation. Recently, she facilitated a workshop for FotoFactory, Lagos which she developed with Sylvester Ogbechie at CCA Lagos, a very well-known gallery space with a library. In the course of the workshop, Vanguard Arts & Reviews had a chat with her. Excerpts:
Since the workshop started, how far?
It started on Monday and the participants are very encouraging. I am happy because some of the students are really working over the years and I see how their work is growing more and more into the field. You know one of our aims is to make them become professionals, some of the students were already working with photography, one of them was even at the Lagos Biennial. We were able to foster their careers and develop their skills and I am very happy about how it works. And also, they have a place they can meet so that they can communicate like on Facebook, Istagram, so there are many possibilities they can meet and share ideas even when the class is not on.
Why Nigeria?
I have had many African friends for a  long time and was interested in African photography. I met Ayida Mulani, a photographer from Ethiopia, who invited me in 2010 where I did the first exchange programme and they asked me whether I wanted to do something in Nigeria and I said yes, then I came to Nigeria for the first time in 2012 and collaborated with the Yabatech and we had a show that took six Nigerian photographers to Berlin, it was sponsored by the German Foreign ministry. Then we had another at Goethe Institute in Lagos and later in Berlin, after that there was a publication and Goethe Institute liked it and asked me whether I wanted to continue and I said yes and that was how it come into place, it came organically.
Lessons from the workshop?
The workshop, offers a teaching programme aimed at young Nigerian photographers who are interested in developing their skills and careers as photographers.  They were taught how to sustain the work, how to look at it critically and edit the pictures. How to bring the works out, if they want to show it, print or make a photo book. They were also taught how to do deep retouch, learn photography as a course as well as understand what a good picture is.
After this , what next?
We will do a website to update our new works, then we do an exhibition/publication in Europe. As a photographer working in an international scene, I try to bring the works across for other people to see, especially works from African scene to make it visible.
Now, almost everybody is taking photographs, how can one identify a good photograph?
Today everybody takes a picture, but that does not mean he/she is a photographer. The consciousness behind a picture makes a difference. As a photographer with over 35 years , I consciously know what I do and what I bring across and what topic I work with and what I want to show.
What is a good photograph?
A good photograph is one which sticks in your mind, which has a clear content and a clear meaning with a clear composition. In photography, what makes the difference is consistency, when you continue to do it from time to time, you will become a professional for example in Berlin, it takes three and half years to study photography.