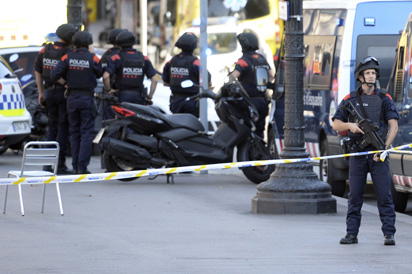 "Soldiers" of the Islamic State group carried out a deadly van attack in Barcelona on Thursday, the jihadist organisation's propaganda outlet Amaq said.
"The executors of the Barcelona attack were soldiers of the Islamic State," Amaq said on its Telegram messenger account, without naming those it claimed were behind the attack.
Amaq said they had launched the attack in response to calls to target states taking part in the United States-led coalition battling the jihadist group in Iraq and Syria.
At least 13 people were killed Thursday when a driver deliberately slammed a van into crowds on Barcelona's most popular street in what police said was a "terror attack".
Police said they had arrested two suspects after the assault, the latest in a wave of vehicle rampages across Europe in recent years.
The attack caused panic on the streets of Spain's largest city and drew condemnation from world leaders.
The famous Las Ramblas is one of Barcelona's busiest streets, lined with shops and restaurants and normally thronged with tourists and street performers until well into the night.
IS, which once controlled a self-declared "caliphate" across large parts of Iraq and Syria, has called for suffered major losses in recent months.
Coalition-backed Iraqi forces recaptured its Iraqi stronghold Mosul in July.
The coalition said the fall of Mosul was a "decisive blow" against the group but did not mark the end of the war against the jihadists.