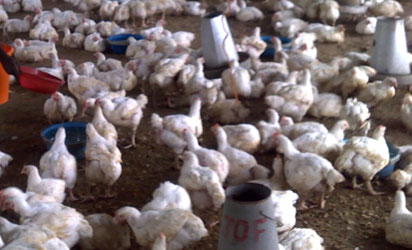 Poutry farm
By Abdallah el-Kurebe
"By 2030, the size of the food and agribusiness in Africa will reach $1 trillion. So, if you are thinking of how to make money, that's the sector to be in." – Akinwumi Adesina, President of the African Development Bank.
"Cassava is an industrial crop of the future in Africa, with the potential to generate income for poor farmers and a huge number of jobs." – Claude Fauquet, Director, Global Cassava Partnership for the 21 Century.
Nigeria is the largest producer of cassava in the world with an annual output of 34 million tonnes of tuberous roots. It is produced mostly by smallholder farmers by use of 'traditional instruments' with an average landholding of less than two hectares per smallholder farmer.
But the low productivity of cassava, according to the African Agricultural Technology Foundation (AATF), is as a result of limited market opportunities due to low utilisation of mechanisation and production or processing tools. "It takes a farmer in Africa 10 days to uproot or harvest their fields while a farmer in India requires only six hours."
Therefore, in order to encourage commercial production of cassava by smallholder farmers, AATF, through funding by the United Kingdom Agency for International Development (UKAID) has rolled up a Cassava Mechanization and Agro-processing Project (CAMAP) currently in Kwara, Kogi, Ogun, Oyo and Delta states.
The objectives of CAMAP are to "Negotiate access and transfer of cassava mechanization and agro processing technologies for use by smallholder farmers; increase cassava production through mechanisation across the entire value chain and thus reduce post-harvest losses and demand for intensive labour; add value to the cassava industry through value addition and the creation of market linkages between smallholder farmers and agro-processing centres; build the capacity of local entrepreneurs to design prototype machines, manufacture, maintain and repair equipment for planting, harvesting and processing cassava; expand the utilization of safe, quality, diversified value-added cassava products and derivatives," said Abu Umaru of the Communication Unit of AATF during a tour of CAMAP fields in Ogun and Oyo states.
The Country coordinator of the Project, Ayodele David said that CAMAP is here because the competitiveness of Africa's cassava bye products at the world market has been low because cassava is produced and processed for subsistence (93% consumption rate), whereas it is an industrial crop in emerging countries like Brazil, Indonesia and Thailand.
"The goal of CAMAP is to enhance cassava production and processing technologies for sustainable improvements in food security, incomes and livelihoods for farmers, processors, and marketers in the cassava sector. This will be achieved through the upgrading and expanding of traditional planting, harvesting and processing methods. These changes will contribute to the development of competitive cassava commodity value chains resulting in reliable supply of processed products for food and non-food industrial use," he said.
David added that while CAMAP targets women and young cassava farmers, 250 cassava farmer groups have been formed, trained and empowered and has covered 3,000 hectares of land per year since 2013 in Nigeria. These are apart from the ones formed by states Agricultural Development Programmes (ADPs) and handed over to CAMAP. With a target of 6,000 in 2017, 65% full mechanization has been achieved so far.
"The role of AATF is to access, adapt and deliver cassava mechanization technologies to cassava farmers using PPP approach along the value chain. So far, we have provided implements like cassava planter, boom sprayer, cassava cultivator and sprayer: used for removing tender weeds and spraying cassava field as well as cassava up-rooter: used for harvesting cassava roots," he said.
Abdulrazaq Abdulwahid Alghazali, an Estate Surveyor and leader of a group of 15 youths (operating under the name Path-P Agricultural Enterprises), at a 40-hectare cassava farm at Igunrin village of Iseyin local government of Oyo state, said that they have been into farming 17 years ago. He added that prior to their engagement into cassava farming; they were into cocoa, cashew, rice, plantain and beans production.
"With the intervention of AATF however, we started with zero capital by acquiring this 40-hectare farmland and clearing it with our bare hands in two and half months. AATF provided us with a tractor, plough, planter, sprayer, chemicals (power force), 80 bags of fertilizers, fuel for the tractor and supervision services. Not that only, AATF is training us to use these tools," Alghazali said adding that "all we were required to provide was land and seed stalk. We sold our personal belongings to acquire this land on lease at N167, 000 from this community. Although 48 cassava varieties have been developed by the International Institute for Tropical Agriculture (IITA), we were introduced to TMS1632 and TME419 varieties."
He further said that they were being taught about the cassava value chain, "which include starch, flour, fodder, peels, glues, pharmaceuticals, ethanol, etc. we are also being linked to markets for the product."
According to Abu, "using a two-row planter one can plant cassava on a hectare in 45 minutes. However, it takes about three days to manually plant cassava on a hectare of land."
At the 20-hectare Ayetoro Cluster farm cultivated by 25 youths in Yewa North local government of Ogun state, the leader, Idowu Friday said that AATF's intervention had made cassava farming easy for them. "In 2016 before we were provided with implements, we spent one day to cultivate cassava manually on one acre of land. With mechanisation, it is now 20 to 25 acres a day," he said adding that "planting population has increased and we have now cleared 150 hectares for planting."
On service provision, Gbadamosi Ibrahim, a tractor driver cum mechanic said he had never seen a cassava planter before its introduction by AATF. "I have now been able to acquire a tractor and provide services by it. I can plant cassava on four to five hectares of land a day. In the whole of last year, I repaid N600, 000 but between January and May this year, I paid N900, 000. I do not intend to go back to manual farming again. "