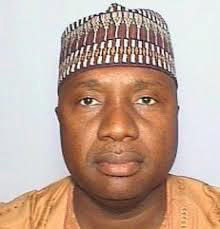 Gov. Mohammed Bindow Jibrilla
The safe return of President Muhammadu Buhar to the country, after his medical vacation in London, is God's answer to prayers for his sound and quick recovery, Gov. Mohammed Bindow of Adamaw says.
The governor made the remark when he spoke through his Chief Press Secretary Mr Yohanna Mathias with newsmen in Yola on Sunday.
Bindow expressed the happiness of the people of Adamawa to the president's return, adding that the state was the first to organise prayers,on Fridays and Sundays, for the speedy recovery of Buhari.
He said that the success so far recorded by the military against the inusrgency in the North-East was an indication that the president had done a lot for the people of the region, the state in particular and the nation at large.
The governor also said God has proved those who peddled rumours of the president's death wrong with the return of Buhari.
The governor advised the people who made hate speech their watch ward to desist forthwith, adding that such attitude would not grant them their desires.
Buhari, who wished Buhari more strength and health to carry out his good works, called on the people of the state to continue to support the APC -led administration to enable it succeed.
NAN