—Says strike helped in establishing TETFund
—–As FEC approves $122.62m for rehabilitation of Ajaokuta- Itakpe rail line.
By Johnbosco Agbakwuru
ABUJA – THE Minister of Education, Malam Adamu Adamu Wednesday admitted that the Federal Government failed to fulfill the agreement it entered into with the Academic Staff Union of Universities, ASUU, after a meeting with duo last year.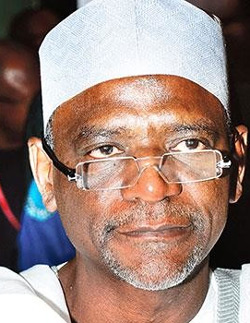 This is as the Federal Executive Council, FEC, has approved the sum of $122.62 milliom for the rehabilitation of Ajaokuta-Itakpe rail road which involved track laying, permanent way works and ancillary facilities area and completion of 12 railway stations by Messr CCECC Nig Ltd.
Briefing State House correspondents after the weekly Federal Executive Council, FEC, meeting the Minister of Education also accused the union of not following the due process before declaring the indefinite strike.
Though he said that the union was made up of patriotic Nigerians that their agitations in the past helped in the establishment of the Tertiary Education Trust Fund, TETFund by the previous administration, he promised to meet with the leadership of ASUU as soon as possible to find amicable resolution of all the contentious issues.
He said, "Very sad that I am here and ASUU is on strike,late last year we had a meeting because ASUU gave one week notice of strike and we were able to work out some agreement.
"I must confess government has not fulfilled its part of the bargain, even though we are unhappy that ASUU went on this strike without following due process and giving us good notice, we realised that we promised something and we didn't fulfill it.
"I hope I will be meeting them later today or tomorrow and am sure we will be able to reach some agreement so that the strike will be called off as soon as possible.
"I am sure you are aware of the issues we agreed on, there is the issue of re-negotiation which is the only one they agreed government has done what it promised because we set up the re-negotiation team and negotiation is already ongoing.
"There is the issue of Earned Allowances and I think because of some miscommunication what we promised could not be done, but am assuring ASUU and the whole nation that this is going to be done.
"There is the issue of registration for Nigerian Universities Pension Commission I think that one there are few issues that need to be sorted out with the Nigerian Pension Commission, I believe there will be no problem with that.
"The issue of their staff school which I think the court has given them verdict to go ahead with it, they have requested that they should be allowed to stay off TSA and I think government will not do this but there are some peculiar funds in the university like endowment which are monies kept and all the interest they generate, prices and so on are given.
"Government will exempt that one only,but universities it is part of the peculiarities, they just must log on. I hope later on when I meet them today there will be total agreement."
Asked to reconcile the statement he made during the last dispensation about ASUU strike to the effect that, 'So, instead of hectoring ASUU to call of its strike, the nation should be praying for more of its kind in other sectors of the economy,' the minister said that was still his position.
He said if ASUU had not forced former President Goodluck Jonathan, he would not have created the Tertiary Education Trust Fund (TETFund), without which he said, the university system would have collapsed.
The minister emphasized: "That is still my view. I believe ASUU is composed of patriotic people, very responsible.
"If I can look at what their struggle is, they force the then government to create TETFund and today, without TETFund, the university system would have collapsed.
"I'm not supporting ASUU, am supporting what is good. If it is something bad, I will condemn it."
Also briefing journalists, the Minister of Information and Culture, Lai Mohammed said the Minister of Transportation, Rotimi Amaechi also submitted memoranda which was approved by FEC for the contract for the rehabilitation of Ajaokuta- Itakpe rail line.
He said that it involved track laying, permanent way works and ancillary facilities area and completion of 12 railway stations in favour of Messr CCECC Nig Ltd in the sum of $122.62million and that the amount was inclusive of all taxes at the prevailing CBN exchange rate of one dollar to N305 with a completion period of 15 months.
According to him, Ajaokuta to Warri track is in good condition and when the new contract is completed access to the seaport is achieved for the evacuation of goods.
Mohammed added that Amaechi also submitted a memo for the interim phase arrangement for the concession of the Nigeria's narrow gauge railway system which was approved.
He said that the approval was to issue a letter of comfort to General Electric so that by Oct. 2017 there would be full utilization of Lagos – Kano and Port Harcourt – Calabar – Maiduguri line.
He said it was part of the efforts to rehabilitate the 30,000 km narrow guage line and make it ready for haulage of goods and services.
According to him from October there will be new 17 wagons to move at least a million tonnes of goods from the roads and preserve its lifespan.
Mohammed added that FEC approved the variation cost for the construction of one 150 MVA 330/133 KVA transformer at Birnin Kebbi and the reinforcement of a sub-station in Kumbutso, Kano, for the transmission company of Nigeria.