A Chairmanship Candidate for the Nigeria Union of Journalists NUJ, Lagos Council election, Dr. Qasim Akinreti, yesterday, said members' welfare, capacity building and agriculture will be his priority, if elected into office in September 2017.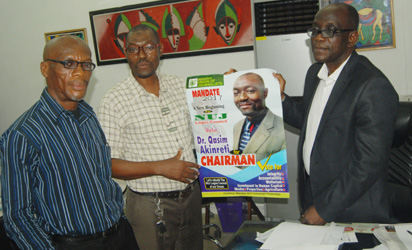 Speaking during his campaign titled "Mandate 2017", which took place at Vanguard Corporate Headquarters, Kiri-kiri Canal, Apapa, Lagos, he said his era will bring a new beginning to the state council through accountability, integrity and investments.
To achieve this, he said, he will institute a budgeting process to spell out income and expenditure for members in order to endanger financial stability. In his words, "Mandate 2017 is about a new beginning for Lagos NUJ, in terms of integrity, accountability and welfare of our members,"
According to him, his tenure will restore dignity to the Union to foster relationship among members both at home and in Diaspora to build a virile leadership.
He said, "we shall ensure professionalism and restore the dignity of our members because our word is our bound and we shall deliver our promises to our members who voted us into power. We shall invest in human capital, media, properties and agriculture as the case may be,"
The campaign team was led by Chairman Mr Gbenga Fatile who said Qasim will stand by his promises if voted into power.
Earlier, Vanguard General Manager and Editor-in-Chief Gbenga Adefaye and Deputy Editor Eze Anaba threw their weight behind the candidature of Quasim,
"you know why I like him, he is my kid brother who stayed in my room throughout my campaign period as president, Nigeria Guild of Editors, now that he needs my support, I will not fail to stand by him,"