By Kelechukwu Iruoma
Over 500 million people in Africa are estimated to live below poverty line. Yet, many African governments, including Nigeria, despite different policies introduced, have not found solutions to eradicate poverty and hunger. The United Nations Food and Agriculture Organization (FAO) estimated that 233 million people in sub-Saharan Africa were hungry and undernourished from 2014 to 2016.
Many African countries are highly dependent on agriculture to survive, but due to lack of required resources, farmers still find it difficult to increase productivity.
Goal number one and two of the United Nation's Sustainable Development Goals (SDGs) are to end poverty and hunger. Yet, some countries in Africa are far from meeting these goals. Food security is a huge challenge in Africa and until the right resources are introduced into the agriculture, Africa, in decades to come, will never meet these goals.
According to FAO, "The world population will reach 9.1 billion by 2050 and to feed that number of people, global food production will need to grow by 70%. For Africa, which is projected to be home to about 2 billion people by then, farm productivity must accelerate at a faster rate than the global average to avoid continued mass hunger."
The population of Africa is growing and it is threatened by low farm productivity exacerbated by weather changes, shorter fallow periods, and rural-urban migration that deprives farming communities of young people. Many farmers in Africa still utilize traditional processes that are dependent heavily on historical norms, or use tools like hoes and cutlasses.
The need for Zenvus
However, Zenvus Technology, developed by Professor Ndubuisi Ekekwe, is redefining the sector with an intelligent solution for farms to use proprietary electronics sensors to collect soil data like moisture, nutrients, among others, and send them to a cloud server via GSM, satellite or Wifi.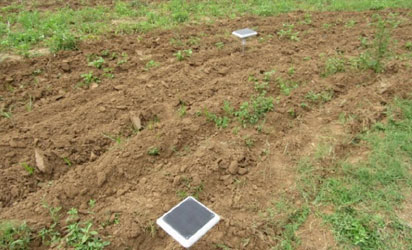 Algorithms in the server analyze the data and advise farmers on what to do to maximize yield. "As the crops grow, the system deploys special cameras to build vegetative health to help detection of drought stress, pests, and diseases," said Ekekwe.
The data generated is aggregated and made available through a subscription for agro-lending, agro-insurance, commodity trading to banks, agro-insurers and agro-investors. Zenvus, as an electronic farm diary helps farmers record all phases of farming from planting through harvest to sales.
Ekekwe said that the desire is to: "Exploit the ever burgeoning power of technology and science to revolutionize farming output efficiency and productivity in Africa."
Data is key to the innovation
Zenvus allows farmers and stakeholders make informed decisions by providing real time data for the farmers and stakeholders thus eliminating guesses on timing, procedure, and crops for farming.
Farmers have long relied on opinions and poor forecast to make decisions on agricultural investments and this has affected agricultural yield. The technology also provides data analytics that relates information on the possible outbreak of pests and diseases in farms which usually reduces yield, allowing farmers to initiate preventive measures. Just as Professor Ronald Coase said, "Torture the data and it will confess to anything."
This is a timely innovation for an industry that has been tipped to boost many economies in Africa with many African leaders pledging commitment towards agriculture in the present and future.
"The technology wirelessly transmits the data to a cloud server where advanced computational models help to make sense of what is happening on the farm," said Ekekwe.
It is powered with solar with a battery capacity that can last for days; a farmer interacts with the hardware data via the free Zenvus Web App which is both desktop-and mobile-friendly.
Zenvus rendered services
Zenvus offers various services: "zCapital helps farmers raise capital (loan or equity) by providing independent farm data from sensors to help banks and investors evaluate overall profitability of farms; zInsure helps Zenvus farmers insure their farms by providing independent farm data from our sensors to insurers. This helps them evaluate the risks based on actual farm data.
"zPrices empowers rural Zenvus farmers with real-time produce prices across major cities. It provides farmers with data to effectively negotiate prices with merchants who normally pay them little; zCrowdfund helps Zenvus farmers' crowd fund capital from local donors who they can deliver produce after harvest.
Sensors validate these farms providing partners with confidence; zMarket provides a platform for Zenvus farmers to sell their produce. It is an avenue to expand their markets by removing geographic limitations.
"zManager is an electronic farm diary that helps Zenvus farmers record all phases of farming from planting through harvest to sales. It keeps all records – financial, staff, tools, etc in one secured place, harvest days and buyers connect. zPrices empowers rural Zenvus farmers with real-time produce prices across major cities.
It provides farmers with data to effectively negotiate prices with merchants who normally pay them little."
Due to the falling price of crude oil, the Nigerian government has turned to the agriculture as a viable alternative source of income to ensure that the country eliminates poverty and hunger among its citizens.
The administration President Goodluck Jonathan launched an Agricultural Transformation Agenda which was managed by the Federal Ministry of Agriculture and Rural Development. The aim was to promote agriculture as a business, integrate the agricultural value chain and make agriculture a key driver of Nigeria's economic growth. While this is in the process of perfection, there is need to bring in data-driven technology like Zenvus into farming to help boost productivity.
Subscribe for latest Videos