…Is it true that 282 vessels bound for Nigerian Ports got missing under your watch?
…Is it true that trillions of naira have been lost through revenue leakages in institutions under your supervision?
By Jude Nkemjika
It has been quite amazing watching how the Managing Director of the Nigerian Ports Authority (NPA), Hadiza Bala-Usman has sought, albeit unsuccessfully, to turn the table against the weighty allegations of incompetence and dereliction of duty against her by wrecking up allegations of conflict of interest and witch-hunt against the Senate Committee chairman on Custom and Excise, Hope Uzodimma.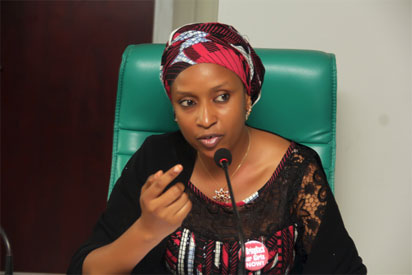 For starters, I am not holding brief for Senator Uzodimma who I hardly know except by reputation through some publications on his philanthropy to his people. This being so, I would not have bothered to join issues either with the NPA MD or with the media hands who in trying to make a case for her only succeeded in making one believe that there must be a very big rat inside the MD's kitchen.
Let us start from the basics: Why did the NPA MD find it convenient to run to her kinsman, Col Abubarkar Umar, to announce her objection to Uzodimma's chairmanship of the Senate Committee that is investigation revenue leakages in the nation's import-export chain? By so doing she merely succeeded in ethnicizing a national issue, because all she did was to create the impression before the north that she was a victim of witch-hunt by an Igbo Senator.
Couldn't this give her away as an Igbo hater? Many have labeled her as so, based on her numerous anti-Igbo policies in the NPA. A genuine and sincere public servant satisfied that there were reasonable grounds to establish a witch-hunt case against her would have decently and quietly written a petition to the Senate President outlining her fears. That is what those without fear or favour would do. They do not play to the gallery by employing the services of activists to whip up ethnic sentiments.
To make matters worse, the MD went further to make a media show of a normal, routine investigation that is not about NPA. What was her case? That Uzodimma's company, Niger Global Limited, had a contract with NPA, first in 2001, for maintenance and dredging of the Container Terminal Berths, that is, TIN Can Island, Roro Ports and Calabar Access Channel.
That despite not doing the job satisfactorily, Niger Global was paid off (incredible-isn't it?). They went on to allege that 11 years later, the same NPA entered into a joint venture partnership with Niger Global Ltd for the purpose of managing Calabar Port Channel. Going by the publications, we learnt that NPA, in fact, has 60 percent hold on any technical partnership it has with other companies. Against this background, it is instructive then that in 2006, NPA entered into a joint venture with a consortium of companies including Niger Global.
By 2010, this consortium of companies, led by Niger Global, was awarded the contract to birth the Calabar Channel Management Company. Mind you, NPA has 60 percent control in this arrangement.
Let's cut off all the boring inaccuracies about the role the Bureau of Public Procurement (BPP) played or did not play in this contract and go straight to the meat of the matter. The writers claim that Calabar Channel Management Ltd (not Niger Global) submitted a bill for payment of $12.5million for work not done on the Calabar Channel in 2015. The same people thereafter also aver that "the NPA was not satisfied with the quality of the work done by the company and then refused to pay".So which one do we take "work not done" or "quality of work done?". This crass contradiction only shows a dare-devil desperation to twist facts. However, in spite of everything, the money was paid according to the writers.
Also, according to them, the EFCC waded into the matter and even the NPA hired a consultant to also carry out barometric audit of the work done, which NPA has 60 percnet control. While all these were going on, according to the writers, "Niger Global submitted another invoice requesting for the payment of $22million from NPA with a threat of legal action should it fail to pay.
What audacity? But was it Niger Global that submitted this invoice or the consortium of companies? Someone must again be misleading the public here. The main claim here is that because NPA has not paid Niger Global the $22million, Uzodimma is using the on-going Senate investigation to witch-hunt the MD. Sounds interesting. Now this is the crux of the case as laid out by the writers and publicists.
They are convinced that these illogical presentations constitute enough evidence that Uzodimma is using the Senate Committee investigation to witch-hunt, the M.D. And here the fatuous fallacy of their presentation is laid- bare, which is why I think the MD should be called to order. Let me provide four simple reasons I think so.
One: What is the evidence that the consortium of companies, legally contracted on a job, were performing unsatisfactorily? None to my knowledge. Or What evidence is there to convince anybody that in spite of the claim of unsatisfactory performance, that then, President Goodluck Jonathan insisted that the consortium be retained and paid for work not done or unsatisfactorily done? If such proof exists should that not have been presented to the public? Or better still, to the Senate?
Two: what was the outcome of the dual investigation by both EFCC, and NPA in particular? Did NPA conclude its investigation and if so where is the documentary evidence of its findings. If this evidence exists, why didn't this consortium of writers make any reference to it to prove their case?
Three: Is the Senate investigation on NPA or on revenue leakages from the import-export chain of the country? Of course the latter is correct, the investigation is on revenue leakages in the import-export chain. Why then will anybody want to create the impression that it is an investigation just on NPA if not to distort facts for mischief purposes. Again, brazenly twisting facts this way only goes to expose an ignoble desperation on the part of the MD.
Four: Assuming, without conceding that there is any iota of truth in the allegation that Senator Uzodimma is out on a witch-hunting mission against MD, Bala-Usman, the cogent question that must be addressed is – Can Uzodimma, as a Senator and Chairman of a Senate Investigation Committee, witch-hunt the MD?. The answer is Capital NO. Reason?
No Senator alone can witch-hunt any person or persons. For the avoidance of doubt, the Senate or the National Assembly or any other Legislative House for that matter, acts through resolutions. This means that any decision of the Senate that can be considered binding on any person or institution must come by way of a resolution of the Senate.
Now again, assuming, without conceding, that Uzodimma set out on a witch-hunt mission against the MD, he must first bring the findings of his Committee to the floor of the Senate for adoption. All the 109 members of the Senate will consequently have the opportunity to examine the findings and take a vote on them by way of a resolution.
Majority of the Senators must agree with any finding before it can be adopted as a resolution.  In essence, Uzodimma is as powerless as any other single Senator in executing any witch-hunt mission against any person or institution.  I believe those shouting wolf should have known better, that there was no wolf at all.
To put this matter to rest, if the worry of MD Bala-Usman is that Senator Uzodimma is going to witch-hunt her through the Senate Committee, she should be rest assured that the Senator cannot. It is practically impossible. Having laid this phony claim to rest, may I now call on the MD to address the allegation concerning her department or Agency; that is NPA. These allegations, in my view, are both straight forward and weighty; to wit.
Is it true that 282 vessels bound for Nigerian Ports got missing under your watch? Is it true that trillions of naira have been lost through revenue leakages in institutions under your supervision?  These are the issues which I think our madam MD should address knowing that if she puts up a good defence the revered institution of the Senate will exonerate her.
So wake up madam MD, stop reciting this boring history of Niger Global and NPA. They have become repetitive, and trite. Address the real issues and stop chasing shadows.
Jude Nkemjika is a public affairs analyst based in Lagos