By Ediri Ejoh     
Nigeria's quest to end gas flaring, ahead of global 2030 target, may be far from possible, as Federal Government has not yet enforced stringent penalties against defaulters.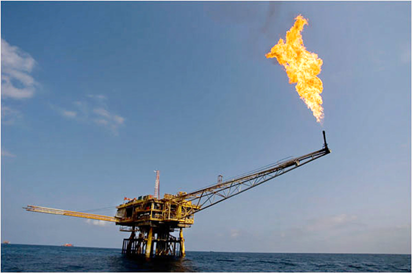 Investigations showed that many oil and gas producing companies still flare gas in petroleum producing areas.
Consequently, the Chairman of the Petroleum Technology Association of Nigeria, PETAN, Bank-Anthony Okoroafor, called on the Federal Government to put in place mechanisms to help support the flare elevation in the country.
According to him, "Plans to reduce flaring in Nigeria includes; increasing the gas flaring penalties to an appropriate level sufficient to de-incentivise the practice of gas flaring, introducing a national gas flare commercialisation program, discourage Greenfield investments without clear cut plans for gas, build awareness about new small scale technologies to use associated gas that is currently flared.
"Explore financing options for gas flare reduction and gas utilisation, monetization of the flared gas – National gas commercialisation program, Legislation to end gas flaring, prioritize gas as a standalone business in the new draft gas policy, encourage the exploration and production of new gas supply sources from inland and offshore basins.''
He also called for the introduction of a new production Sharing Contract, PSC, to ensure robust gas production and supply growth over a long term period, re-injection into fields aswell as conversion into Liquefied Natural Gas, LNG, and Compressed Natural Gas, CNG.
Challenges
 He noted that, the challenges confronting the proposed gas flare elimination included: ''lack of political will on the part of government, unavailability of infrastructure required to control the gas flaring, low price of gas, relatively small market for domestic gas products, limited funding and inadequate monitoring and enforcements.''
Okoroafor, who expressed dissatisfaction over compliance, added that "not all companies are complying. Some are complying more than others."
"We can attain a gas flare free country, as planned 2020, with the right political will, improved access to finance and incentives, improved monitoring and enforcements, proper fiscal terms, we can attain a gas flare free country as planned.
"The National Gas Commercialisation Program lays out the framework for government to license 'Gas at Flare' to technically credible and financially sound 3rd party private sector players.''
However, DPR has put gas flaring at 10 percent of total gas produced in the nation, adding that "this has improved remarkably over the years with Nigeria now placed 7th in the world. Although we have recorded some decline, flare volumes of 7.24 Billion Standard Cubic Feet per day (BSCFD), average of 2016, is still worrisome."
The regulator further added that: "A number of AG solutions and Flares-capture projects are ongoing. In any case the NGFCP is the primary initiative to harness flared gas in Nigeria and will result into the deployment of Modular and Mini processing technologies in due course."
Benefits
With huge funds needed to fund the country's budget, as well as support the economy, government has been urged to embrace the potentials locked in gas development.
Mr. Sanjay Teotia, Managing Director, NIPCO Plc, said at the Nigerian Gas Association conference that Nigeria saves over $10million of foreign exchange from 2012 to 2016, to use of Natural Gas Vehicles, NGV.
"Natural Gas Vehicles have huge potential & should be seen as a solution. It is clean, economical and domestic fuel resource; its technology is available, proven & cost competitive; renewable natural gas provides a path to near zero carbon; globally natural gas industry is increasing its focus & effort to support natural gas transportation. But policy and regulatory support is needed to create programs and incentives on par with those for other fuels.
"The need for an alternative vehicular fuel will reduce dependence on imported oil, save valuable foreign exchange, reduce subsidy burden on government, better utilization of Nigeria's own domestic gas substantial reductions in emissions resulting in improved air quality of the city and reduced health costs."