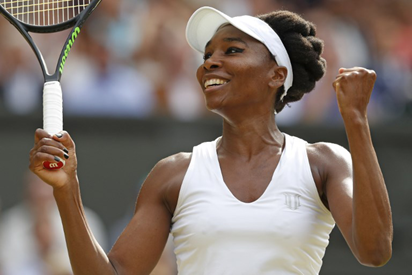 US player Venus Williams celebrates beating Britain's Johanna Konta during their women's singles semi-final match on the tenth day of the 2017 Wimbledon Championships at The All England Lawn Tennis Club in Wimbledon, southwest London, on July 13, 2017. Williams won 6-4, 6-2. / AFP PHOTO
All these years later, Wimbledon still brings out the best in Venus Williams.
With her latest display of gutsy serving and big hitting, Williams beat Johanna Konta 6-4, 6-2 on Thursday to reach her ninth title match at the All England Club and first since 2009.
At 37, Williams is the oldest Wimbledon finalist since Martina Navratilova was the 1994 runner-up at that age.
Williams also stopped Konta's bid to become the first woman from Britain in 40 years to win the country's Grand Slam tournament.
"I couldn't have asked for more, but I'll ask for a little more. One more win would be amazing," Williams said. "It won't be a given, but I'm going to give it my all."
She will be seeking her sixth Wimbledon championship and eighth Grand Slam singles trophy overall. Her most recent came in 2008, when she defeated her younger sister, Serena, for the title at the All England Club. A year later, she lost the final to Serena.
On Saturday, the 10th-seeded American will participate in her second Grand Slam final of the season, and 16th of her career, this time against 14th-seeded Garbine Muguruza of Spain.
"She knows how to play, especially Wimbledon finals," Muguruza, the 2015 Wimbledon runner-up and 2016 French Open champion, said about Williams. "It's going to be, like, a historic final again."
Muguruza overwhelmed 87th-ranked Magdalena Rybarikova of Slovakia 6-1, 6-1 in the earlier semifinal.