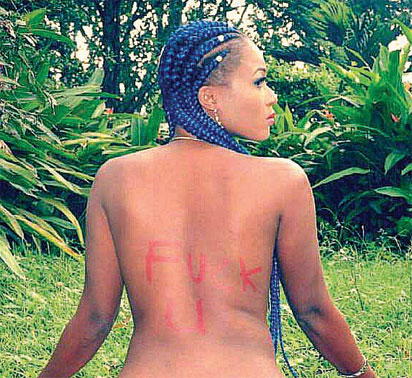 Christabel Ekeh
By Ayo Onikoyi
Sultry Ghana/Nigerian actress, Christabel Ekeh, has never failed to get all eyes looking in her direction with her below-the-belt antics and theatrics.  Her Instagram account is loaded with provocative pictures and videos of all sorts. But days ago, the actress simply went over the edge and got many thinking if she had not lost it. She posted her naked pictures, in several poses. When I say stark naked, the actress was not wearing a thing!
In the stark nude pictures, she was sitting bare, Yoga-style, backing the camera with an inscription 'fuck u' bold at her back.
Many people thought it couldn't have been her sharing such obscenity, that her account could have been hacked. But in an interview with Joy TV, the pretty actress, admitted posting them herself, saying she was only introducing 'the new her' to the world.
"I want the world to see new Christabel. I was only introducing my new self. New Christabel is new, whoever you can imagine. That's why I'm not wearing anything. So, whatever you want to wear on me, that's your imagination," She dismissed speculations that her account may have been hacked and the pictures were posted by someone else.