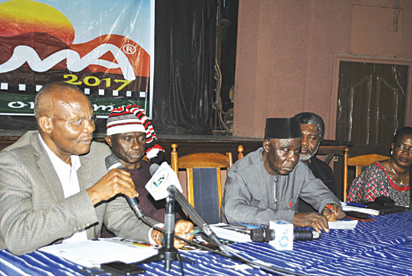 L-r: Prof. Hyginus Ekwuazi , Dr. Chidia Maduekwe and Chief Eddie Ugbomah
*We are positioning the festival  as a national and Int'l brand for Nigeria—NFC boss 
By Benjamin Njoku
THREE years after the last edition was held in Abuja, Nigeria's foremost platform for the celebration of motion picture industry, ZUMA Film Festival, ZUFF, has been relaunched.
Unveiling the programmes and logo of the festival which is billed to hold in Abuja, between  December 1 and 5, in Lagos, last week, the Managing Director/Chief Executive of Nigeria Film Corporation, Dr. Chidia Maduekwe said, this year's ZUMA  film festival will be bigger and better than the previous editions.
According to him, the rebranded  festival with the theme "Feast on Films" is being positioned as a national and international brand for Nigeria. The theme, "Feast on Films", he said, is a derivation from the inexplicable film production explosion of Nigeria.
"This year (2017), we are mounting a re-branded Zum Film Festival designed to explore the economic and audiovisual potentials of Africa's largest motion picture industry. Its thrust is to give impetus to its steady growth pattern and increasing profile as well as align it to the vast and expansive opportunities available in the global audiovisual market.  The festival has, and will continue to serve as a platform for Nigerian film practitioners to network with their counterparts from other parts of the world and thus stimulate co-production and financing opportunities."
"The recognition and reward of cinematic excellence; promotion of audiovisual services, cultural products and the huge export potentials of Nigerian films as well as heralding Nigeria's tourism potentials as a film destination hub remain the overriding essence of ZUMA film festival."
NFC boss said, the film sector, which has contributed over 1.4% to the nation's GDP, is being galvanised with a renewed impetus to not only up its contribution to the nation's economy, but to increase its potency as a tool for peace, unity and progress of the nation. "Going forward, our overriding vision is to create an economic receptacle for the creatives deployed in the making of the movie industry. We have set our focus on increasing the annual estimated value of the industry from $590million to one billion dollar in the short to medium terms."
Some of the programmes lined up for the festival include,  film master classes, workshops, film market and exhibition, opening and closing ceremonies, with red carpet and awards night capping the entire event. It will also feature NFC annual film lecture among other razzmatazz.
Speaking further,NFC boss announced renowned film scholar and critic, Dr. Hyginus Ekwuazi as Head of Jury of ZUMA Film Festival  2017. Dr. Ekwuazi, according to him, will lead a team of carefully selected members whose responsibilities include final selection of award winners of ZUMA Film Festival 2017. Submission of entries for the festival opened yesterday and will close on September 31, 2017.