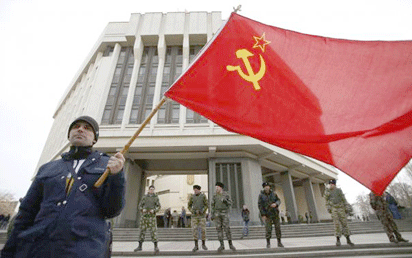 The Government of the Russian Federation, through its embassy in Nigeria, has entered into partnership with the Nigerian Media on on counterterrorism reporting.
In an interactive session with some senior editors at the Russian Embassy in Abuja, the deputy head of Mission, Mr Valery Shaposhnikov, presented documents on Anti-terrorism Convention to the Deputy President of the Nigerian Guild of Editors (NGE), Mr Suleiman Uba Gaya.
According to a statement from the Russian Embassy in Abuja, the document, copies of which will be made available to journalists and editors, elucidates on the important place of the media in facilitating open discussion of the problems of terrorism.
According the Embassy,  Shaposhnikov, also presented the  NGE with a code of conduct for the media in case of terrorist acts and counter-terrorism operations.
Shaposhnikov said that the document was first adopted in 2003 by the Industrial Committee of Russian Media, and has helped the media of that country in sensitising the citizenry about the dangers terrorists portend, and how to forestall it.
"It (the document) also calls on the security services not to use terrorism as pretext or justification to impose undue restrictions on the media.
"It emphasises that only when the media is free and informed can it partner with the military to defeat insurgency.
"The Anti-terrorism Convention calls on the media to realise that rescue of victims and the right to life come first, and they should accordingly not do anything to jeopardise such."
Other key points of the document include the need for the media to inform the military of any useful information at its disposal, especially if it can be used to prevent terrorism or help in rescuing victim, as well as the need not to give any significant space or prominence to exploits of terrorists.