MOST Nigerians have never heard about Scleroderma. According to experts, scleroderma literally means "hard skin." It is an uncommon autoimmune connective tissue disease that affects small blood vessels and causes excess collagen accumulation. Like other diseases that cause pigmentation or white patches, Scleroderma is sometimes  confused with leprosy. 
In this chat with Chioma Obinna, two women that are living with the disorder narrate their experiences and  the sudden change in their lives. They relate their challenges and also their resolve to overcome the social stigma   Their stories are pathetic. Good Health Weekly captured it. Excerpts: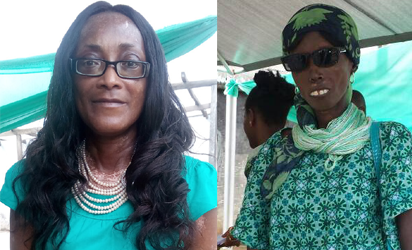 Imagine being shown in subtle and not-so-subtle ways that you are not as good as others because of your looks. Imagine being denied access to where others are allowed because you are perceived as different. Imagine the constant effect of such rejection would have on your social and emotional development. Imagine having these feelings over and over, every time you step  outside your door.   Imagine being discriminated upon due to a problem that was never your fault, simply because of your skin colour.
You don't have to imagine anymore as thousands of Nigerians with diseases such as Scleroderma, a skin hardening disease  that results to pigmentation live it every day.  Such is the story of Mrs. Oluwafunmilayo Adebayo and Mrs. Biola Segun-Williams.
Living with Scleroderma can be depressing in a country like Nigeria where knowledge of the disease is low.  Today, the sight of people with coloured skin patches brings wrong perception.  For them, life is a burden.
"How will I wear the  clothes I like again?  I have decided not to allow depression to set in but wear any clothes I feel comfortable in, without minding the white patches on my skin, one of the women said.
People avoid me because they think I have leprosy  — Mrs Olufumilayo Adebayo
Olufunilayo never knew what  Scleroderma is all about until she was diagnosed. She is facing discrimination and stigmatisation.
"People avoid me a lot because they think I have leprosy. I sell recharge cards, but when some  people want to buy recharge cards and they see the way I look, they refuse to buy from me.
"Even in the public transport,  people avoid sitting beside me. Government should help us with the drugs".
Adebayo who is the oldest patient with such a disorder at the Dermatology Clinic of the Lagos University Teaching Hospital, LUTH, Yaba Annexe, recounted that with those suffering  leprosy which she said was not right.
"God has a purpose for my life," she said amidst tears. We want government to help us look for drugs that can cure it. Before now I can't stretch my hands but now I can, she concluded.
Scleroderma can break you down but I am healing emotionally  — Mrs Biola Segun-Williams
 For Biola Segun-Williams, living with Scleroderma is not only associated with the skin patches but comes with emotional problems that is capable of breaking an individual down
"Before I was diagnosed, I was a very hard working woman. But now, I can't do much because the condition makes me feel tired, weak and emotionally troubled.
"When I was told I had Scleroderma, I screamed Sclero what? I was feeling this strange tiredness all the time.  At a point I was not breathing well.  It also slowed down my movement and people thought I was  posing but nobody knew what I was going through.
"Then, I thought it was the stress thing.  I took all kinds of non recommended medications to get my strength back. But each time I took a break from these drugs I will become exhausted.
"It will just be like running and all of a sudden came to a full stop.  I never understood it."
As the problem continued, Biola who was fond of going abroad for vacation decided to go for a vacation but will still come back tired.
At this point, Biola began to nurse thoughts of death. "I thought it was cancer. I decided to take my children for the last vacation incase if it was death."
Coming back to Nigeria, Biola noticed her skin was changing. It was then, a friend directed her to go to the Lagos University Teaching Hospital, LUTH, where she was diagnosed.
After hearing  "Scleroderma", she became more worried.
"I gave one of the doctors, Dr. Emma, tough time. At a point I could not stand erect. Sometimes I used my hand to support myself.
"My skin began to peel off. I became afraid of bathing because of the pain.  To get out of bed became a problem.  My legs became heavy like metal. I could no longer wear high heel shoes. I have to learn how to walk again."
Following these symptoms, Biola switched off from friends. Her social life almost became history. "I lost my identity. My social life was down. I stopped going out."
However, today, with the necessary treatment, support from family and friends, Biola is not only recovering but regaining confidence.
She has become strong and resolute because she has refused to bow to pain.  "I have decided on my own to fight back. People living with the disease should decide and determine how far they can go.
"I now go out without make up. Half pigmented that is what I am now. I am healing from inside emotionally.  All we need is support and we need to be mentally and emotionally stable to see the physical healing, she stated.
However, studies have shown that early diagnosis of Scleroderma can stop progression of the disease as well as improve outcome.
Untreated Scleroderma causes organ damage —Medical experts
According to Consultant Rheumatologist, Dermatology Clinic, LUTH,  Yaba Annexe, Prof Femi Adblowo, Scleroderma belongs to a group of diseases known as autoimmune diseases.
He said it is like the  body being at war with itself. "Inside our blood, we have the white blood cells. These cells are the soldiers of the body and they have been programmed to protect the body against invaders like germs and infections.
But for some reasons, some of these white cells gang up together and do what I can call coup against the body and then begin to attack the body. The attack now goes into all the structures of the body."
Adblowo said beside scleroderma attacking the skin to form scar tissue or fibrous and thickening, it also affects the blood vessels and vital organs of the body such as the lungs, heart and kidneys and early diagnosis is important to avoid damage of these organs.
Adblowo suggested that since the disease has no cure for now, the best way to handle it was for those having strange development on their skin to seek specialist care through early diagnosis and proper treatment.
"The treatment is all about the management of the complications. We still do not have any drug that will cure it. In scleroderma, we talk about management because it has no cure", he said.
"Don't just go about buying creams in the pharmacy, go and see a skin doctor for proper diagnosis and treat if you notice anything strange on your skin.
He explained that the disease usually affects women of child bearing age in their 20s and 40s and men from 20s. It can also affect women from childhood.
He noted that although the disease is not common in Nigeria, from their records, out of 4000 patients, 29 cases will be scleroderma.
Giving overview of the disease, a Consultant Dermatologist, College of Medicine, University of Lagos, Dr. Ayesha Akinkugbe said scleroderma is a serious systemic condition that requires family support.
She listed some of the symptoms to include; skin colouration, skin tightening, cough and difficulty in breathing among others.