…As Orbih tasks Obaseki on use of Paris Club refund
By Gabriel Enogholase
BENIN—PENSIONERS in Edo State clad in red, yesterday, took to the streets of Benin City to protest the non-payment of their pension arrears and entitlements for several months by the state government.
The protest by the pensioners is coming on the heels of a challenge by Edo State Chairman of the Peoples Democratic Party, PDP, Chief Dan Orbih, that Governor Godwin Obaseki should explain to the people what he did with the Paris  Club refund to the state, since he has failed to pay pensioners their entitlements.
Orbih, while reacting to the plight of the pensioners who took to the streets after exhausting a seven-day ultimatum given to Governor Obaseki to redeem his promise of paying them last month, said:  "All I can say is that holding public office is not just an end,  it is a means to an end. People must be accountable for their actions. It is true that the Federal Government released part of the Paris Fund refund to Edo State and some other states.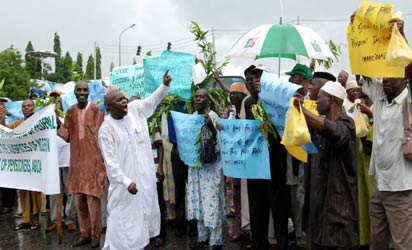 "It is also true that till date, the governor has refused to pay pensioners, using the first tranche of that release by the Federal Government. Edo State has since received other allocations but has not attended to the  needs of our pensioners.
"I want to challenge Godwin Obaseki to explain to Edo people what he has used the Paris fund to do and he should commence the process of paying pensioners without further delay."
The pensioners who occupied the Kingsquare, lamented that after serving the state meritoriously, it was disheartening  that the Edo State Government had decided to abandon them at this time of their lives.
It will be recalled that Obaseki had during the Labour Day May rally at the Samuel Ogbemudia Stadium, promised to pay pensioners all their outstanding benefits in June.
The pensioners who were led by its state chairman,  Pullen Noruwa, decried the inability of the state government to pay their pension and gratuities, despite the bailout funds made available by the Federal Government, stressing  that the unwillingness of the state government to account for the bailout funds leaves much to be desired.
They  expressed deep regret over the non-payment of their entitlements, a situation they said has caused them untold hardship, pains  and therefore, called on Governor Obaseki  to do the needful by paying their pension allowances to enable them address their various needs.
They listed as their grievances the non- disbursement of the N11.38billion (1st tranche) and N12.18billion (2nd tranche) of the Paris Club refund bailouts from the Presidency for the payments of all outstanding salaries and pension entitlements to local government and state pensioners among others.
They also called for the immediate regularization of the payment of the monthly pensions to the local government council pensioners as against the current practice which leaves much to be desired.