By Kayode Odunaro
ON Monday July 10, 2017 about 5000 Ogun State women under the auspices of "Gracious Sisters for Yayi Movement" in the All Progressives Congress, APC gathered in the spacious private residence of Chief Olusegun Osoba at Ataba Close, Ibara GRA, Abeokuta to launch their support  for the ambition of  Senator Solomon Adeola  as a governorship aspirant in Ogun State in 2019. Osoba was not at home. He was not even in the country.  Some weeks before, another politician similarly announced his ambition to contest for a position in the state under the leadership of Osoba. Numerous other meetings of APC Ogun state are similarly held at Osoba's house.  That is a trend that was sanctioned by Osoba in his position not only as  a leader in his party APC in Ogun state but also a prominent national leader of  the  party in the country. For many wards  in Abeokuta South LGA where the residence is located, Osoba's house is the venue for the party's regular meetings.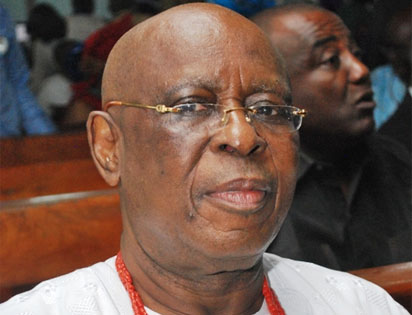 Not many politicians will so indulge  supporters and loyalists particularly when they are not running for any public office. But such is the democratic and unifying nature of the two time governor of Ogun state that his house is now a rallying point for resurgence of progressive participatory democratic politics in Ogun State. As a former chief press secretary to Osoba as governor of the state, I am aware that many decisions about appointments and the governance of Ogun state were taken in a democratic setting under the shade of the trees in the court yard at his residence. For many who are  politically associated with him, his democratic credentials have never been in doubt. Till date, I haven't heard anyone accuse Osoba of dictatorial or unilateral tendency in relation to his style of governance. Neither have I heard it said that he exhibits a " know it all ", "do it all" attitude in public affairs in spite of his rich and variegated experience as a top notch journalist and successful media executive.
As  governor in Ogun State, Osoba's development approach was biased towards the rural areas of the state and to his credit, many communities in the hinterland of the state enjoyed pipe-borne water and electricity courtesy of that administration's rural development initiatives. Urban renewal as well as social intervention programmes particularly geared towards qualitative education and payment of qualifying examination fees for students also felt the impact of  that administration. Many will gladly give it to his administration for impacting on the people's lives as a governor for about  six years. No wonder many  make  his private residence a melting point for all desirous of a people's government.
Osoba by all standards is an elder statesman who has paid his dues adequately in national development first as a renowned journalist, an administrator and politician.
But , it has not always been a smooth sail for him.  Indeed the story of  Osoba's life  has  been that of valleys and mountain tops with many associates deserting him and later staging come backs. But irrespective  of  what he  went through with people, he is not one to bear grudges or  be bitter for long against ingrates and back stabbers.  And there are many in the category of ingrates and back stabbers whose bread were once buttered by Osoba. Many who had at one time or the other fallen out and strayed away from the Osoba Political Family always still feel proud to be associated with him and many had staged a comeback to the welcoming arms of a man with a good heart and unpretentious ways. Osoba has passed through some harrowing times in his political life and narrowly escaped violent  death as well as survived detention and gone  underground in the struggle for a democratic Nigeria. In his home state of Ogun, there are probably no political leader alive except former President Olusegun Obasanjo who has had a more variegated political history than him.
Turned 78 on July 15, Osoba as a former governor and an elder statesman with an unblemished record of public service, contribution to political party formation and development,  is still expected to play a prominent redemptive role in the good governance of not only his state but the nation at large. In this wise, the expectation is that he will use his wealth of experience to guide and influence positive  development in the political arena in his state and indeed Nigeria to enthrone true participatory democracy beginning with internal party democracy that he is noted for.  Indeed, it was the absence of internal democracy that led to his surprise exit albeit temporarily  from the APC to the SDP, inspite  of  the fact that he was involved with the APC in its formative stage. Today, he is back and all eyes are on him (figuratively that is)to play an active role in ensuring good governance and sustainable democracy. There is no gain saying that Osoba has carved an enviable niche for himself as a people's politician, for he is not your regular garrulous flash in the pan politician.
Born to the family of Pa and Madam Jonathan Babatunde Osoba at an Egba settlement, Egbatedo, in Osogbo on July 15, 1939, Osoba attended African Church School, Osogbo, Methodist Boys High School, Lagos. He was at University of Lagos for his Diploma in Journalism. He took courses at Oxford University, Oxford, United Kingdom, Indiana University, USA and Harvard University, Cambridge, Massachusetts, USA.
Beginning a career in journalism that spanned 25 years at the Daily Times and moving from the bottom rung to the  pinnacle of the profession, Osoba naturally identified with popular causes and advocated for the downtrodden which the profession entails as well as its enlightenment role. Osoba is accepted as a role model in the profession of journalism from his days as a reporter in Daily Times, to his managerial position at Nigerian Herald, Sketch Newspapers and Daily Times, all of which flourished under his management. Internationally, Osoba practiced the profession with BBC, Times of London, Newsweek Magazine of USA, UPI News Agency and is a prominent member of the International Press Institute IPI, being the second African to be a member of the Executive Board of the prestigious international professional body after Alhaji Lateef Jakande, another prominent journalist and former governor.
Osoba who holds several chieftaincy titles across Ogun State is married to Aderionsola Osoba (nee
Adeyemi) and is blessed with four children and grandchildren.
Chief Kayode Odunaro, former Chief Press Secretary to Governor Segun Osoba