By Johnbosco Agbakwuru
ABUJA—THE Environmental Rights Action/Friends of the Earth Nigeria, ERA/FoEN, has raised the alarm that oil extraction has destroyed rural livelihoods in the Niger Delta region and that desertification has become the root cause of the constant clashes between herdsmen and farmers in different parts of the country.
The Executive Director of ERA/FoEN, Dr. Godwin Uyi Ojo, who disclosed this in Abuja at a workshop with the theme, Energy Governance and Just Transition for Nigeria, said that the rising energy demand was responsible for the increasing violent resource conflicts at the sites of extraction, arguing that about 70 per cent of Nigeria's population solely depended on fuel wood for energy.
He also lamented that the Federal Government budgeted over N17 billion in the 2017 appropriation for power generation for the Ministries, Departments and Agancies, MDAs, mainly through burning of fossil fuels and purchase of  power plants  called generators.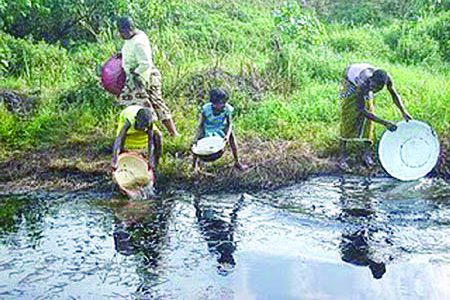 Ojo told the World Bank, African Development Bank, AfDB, and other financial institutions to stop incentives in loans and subsidies promoting extractive activities in oil and gas prospecting so as to move towards energy transition.
He said: "In Nigeria, about 70 per cent of the 170 million people depend solely on fuel wood for energy and representing one of the world's highest deforestation rate of 3.5 per cent annually. Deforestation and illegal logging are major contributors to climate change that has assumed alarming proportions.
"Oil extraction has destroyed rural livelihoods in the Niger Delta, and desertification underlines the Hausa-Fulani herdsmen and farmers' conflicts over grazing lands for livestock and farmlands for food.
"The clean-up of the Niger Delta, southern Nigeria and the afforestation of destroyed forests and vegetation in northern Nigeria should be a national environmental-emergency concern to addressing livelihoods losses and resource conflicts currently engulfing the country.
"The Federal Government and indeed all levels of governance in Nigeria lack a conscientious and holistic approach to addressing the energy shortfall through alternatives in solar powered lighting systems. Nigeria is nowhere near meeting its nationally determined commitment to addressing climate change and reducing carbon emissions because there is hardly anything on ground to address this."
"Nigeria's energy challenge remains a lack of vision to achieve the right energy mix from renewable sources. For example, according to the Budget Office of the Federation, 17,397,470,115 billion of Naira has been earmarked for power generation by the federal government for the MDA mainly through burning of fossil fuels and purchase of  power plants  called  Generators  in the 2017 budget proposals.
"In a recent study by Development Association for Renewable Energies (DARE) and Environmental Rights/Friends of the Earth Nigeria, such whopping sum would generate 46MW of solar power and 650 new jobs during construction and operation.
"Nigeria's continuous dependence on fossil fuels and plants and generators largely contradicts her Nationally Determined Contribution pledge of 20 percent unconditional emission reduction and 45% conditional reduction based on Green Climate funding and other international fiscal instruments.
"The advantages of solar over fossils include fuel efficiency, reduction in air pollution, health improvement, environmentally friendly, and the avoidance of potential carbon emissions from pants and generators.
"We urge the three tiers of government (federal, state and local government) to take more proactive steps toward energy transition by committing five percent of the annual budget to achieving energy transition across a ten-year period."