Abuja – The National Identity Management Commission (NIMC) has deployed a Short Message Service (SMS) that allows members of the public to ascertain and verify the authenticity of their National Identification Number (NIN) and access other services.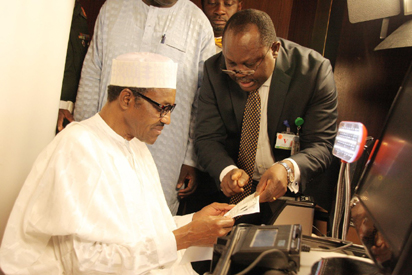 Mr Loveday Ogbonna, Head of Corporate Affairs of the Commission, made this known in a statement on Monday in Abuja.
According to Ogbonna, the services provided by the SMS platform include the Personal NIN Lookup, which allows an individual check their NIN;
"The Card Status Check, which check the print and delivery status of an individual's National e-ID Card.
"The Change Telephone Number, which allows an individual change the phone number used during enrolment to a new one where the old phone number is no longer available and the Help, which allows an individual seek help on available services," he said.
He said individuals could check their NIN by sending the key word "mynin" to any of the specified number and the result would be the sender's NIN.
The official said that the phone number used for sending the request must correspond with the number the individual supplied to NIMC at the time of registration.
Ogbonna said where the individual seeks to change their telephone number, they could sends "Changeme/FirstName/Surname/OldPhoneNo/Last4digitNIN" and the service will reply with the user's full name and acknowledgement of the change from the old number to the new number.
"In the same vein, where a "cardstatus" request is sent to the specified phone numbers, it returns the state of readiness (where applicable) of the card.
"Responses include: Card ready but not dispatched, Card ready, where the card is ready, it displays your batch ID and other details to enable you pick up your card, or Card Collected.
According to him, similarly, the "Help" function is sent to any of the numbers listed below in order to seek help on available services where the individual is not conversant with any of the available SMS Card and NIN services.
"To request for any of these services, the general public is invited to send the SMS to any of the following numbers: ‪+234 908 000 0871 (Etisalat), ‪+234 903 000 0872 (MTN), ‪+234 705 820 0871(Glo), and ‪+234 708 420 0871 (Airtel)," he said.
Ogbonna noted that for Nigerians to enjoy any of these services, they may be required to opt out of the Do-Not-Disturb (D-N-D) policy implemented by some telecommunication companies on their phone lines.
For detailed information, he said, please visit – www.nimc.gov.ng