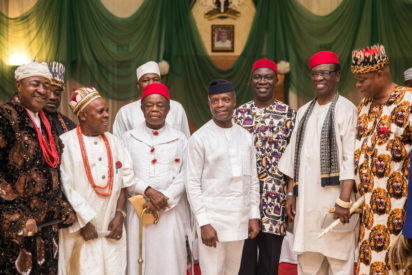 Acting President Yemi Osinbajo (4TH R) Chairman, South East Council of Traditional Rulers, Eze Eberechi Dick (4TH L) Deputy Senate President, Ike Ekweremadu (3RD R) with other Traditional Rulers from South East during a Consultative meeting aimed at promoting peace, as well as protecting lives and properties of all Nigerians at the Presidential Villa Abuja on Sunday
Abuja – Nigeria's amalgamation of 1914 by the colonial masters is a divine creation, the Rev. Franklin Ihemefor of the African Episcopal Methodist Zion Church, Abuja, said on Saturday.
He said since the country was designed by God, its unity should be sustained and promoted against all odds.
Ihemefor, who spoke against the backdrop of agitations for separation by some groups in the country, said the entity remained indivisible.
"The amalgamation of Northern and Southern protectorates of 1914 is a divine design by God to create the world's greatest black country and economy.
"The country's present political and economic challenges are not alien to us but a roadmap to a better and more united Nigeria.
"Every great nation has passed through challenges, Nigeria is not an exception; America had in history lots of challenges including civil war," the cleric said.
"What is happening today is one of the challenges of nationhood which I know is just for very short time.''
Ihemefor called on Nigerians to close ranks for a greater and richer nation which all would be proud to call their own.
According to him, Nigerians should work and crush the greatest enemy of all — injustice and tribalism.
The cleric, who frowned at religious bigotry, said it was the bane of the nation's development, stressing religion must be treated as a personal thing and not a national issue.
"Religion is personal and should be between individuals and their God," he said.