By Emma Amaize, Regional Editor, South-South
ASABA- MONTHS after the Acting President, Prof Yemi Osinbajo's fact-finding tour of Niger-Delta, the Federal Government has come up with a two-year Strategic Implementation Work Plan, SWIP, involving the execution of 457 short, medium and long-term projects, to the tune of N2,065,140,035,959, across the nine states of the region, starting from this year.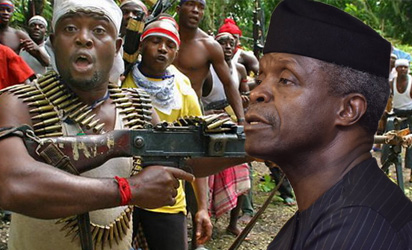 The 85-page road-map (a draft version) obtained by Vanguard, weekend, is, however,  reportedly waiting final approval, but a Presidency source said it was just a formality, as government was set to start implementation of the plan.
The plan, it was learned, integrates government's 20-point agenda, the Pan Niger-Delta Forum, PANDEF's 16-point agenda, existing and planned initiatives of Millennium Development Agencies, MDAs, and specific requests made during state visits by Osinbajo.
"Technically, the two-year SWIP (2017- 2019) document is still a plan until consultation visits are made to states and other stakeholders in the Niger Delta and their inputs integrated," the source added.
Though, the Presidency source maintained that PANDEF took part in the drafting of the SWIP, convener of the group, Chief Edwin Clark, who spoke to Vanguard in Abuja, weekend, dismissed the claim.
He indicated that the Ministry of Niger Delta invited the regional body to send representatives to an inter-ministerial committee, but noted that nothing meaningful was discussed when government officials said they were going to look at projects in the region.
He added that PANDEF's representatives were asked to withdraw as the mission was not clear to the group.
Clark said point blank that PANDEF was not part of the drafting of the plan, which one of the ministers briefed reporters about last Tuesday in Abuja.
The elder statesman said government was yet to dialogue with the organization as requested since November 2016.
Of the total 457 projects, the Federal Government is projected to take on 307, while the International Oil Companies, IOCs, will take responsibility for 150.
Federal Government commitment to the plan totals about N1.769, 621,000,816, with N1, 549, 008, 644, 117 earmarked for short term projects; N208, 989,130, 066, medium term; and N11, 623,229,633, long term. Similarly, IOCs total commitment to the plan totals about N295,519,035,143, including  N191,467,712,143, short term; and N104,051,323,000, medium term.
The road-map has been streamlined into 13 areas under which projects proposals have been organized. For instance, in job creation, the federal government is targeting to create 100,000 jobs across each state over the next five years.
According to the road map, which also has medium-term initiatives that would take between three to five years to complete and long-term initiatives of more than five years, a pilot modular refinery project will take off in Okirika, Rivers State, after which modular refineries will come on stream in Delta, Akwa Ibom and Bayelsa states.
Similarly, pilot industrial parks will be established in nine states of the region commencing in fourth quarter of the year under a PPP arrangement by the Ministry of Niger Delta, Economic Empowerment Department and state governments.
The road-map also seeks to position the Niger Delta as a regional hub for oil and gas-based industries, using the Trinidad and Tobago model, which would integrate setting up of Niger Delta Development Bank, remediation and rehabilitation of oil impacted sites, dredging of rivers, shore embankment in communities, intervention on the East-West Road and other road projects.
The litany of projects include community water, health, road schemes, youth, women empowerment programmes, reintegration of transformed militants, scholarship awards, electrification and provision of generators to communities. Others are construction of classrooms, agricultural support programmes, micro-credit schemes, community investment programmes, catch- them-young academic initiatives.